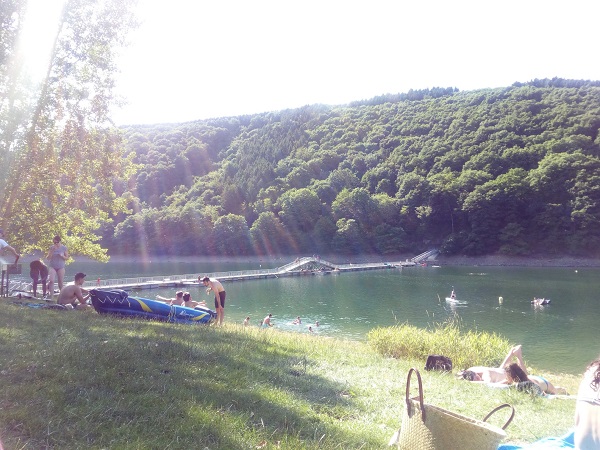 Stauséi, summer 2017; Credit: Jazmin Campbell
Following the heavy demand on the beaches of the Upper-Sûre Lake ("Stauséi") over the last weekends, an online reservation system will be introduced from this weekend for the six beaches along the lake.
From 25 and 26 July 2020, visitors wishing to spend a Saturday or Sunday at the Insenborn "an der Baaech" (Beach 1) and "Fuussefeld" (Beach 2), Lultzhausen, Burfelt, Liefrange or Rommwiss beaches are required to reserve a spot online in advance.
The number of visitors will be limited to one person per 10 m2, calculated on the basis of the surface of the recreation area (beaches),but excluding the areas required for circulation and the water access corridors.
On weekends this summer, access to the sites will only be given to people with a prior reservation made online via the Regional Tourist Office Éislek website www.visit-eislek.lu or on the free Éislek app. Reservation is free of charge. Tickets are valid for the whole day, from 09:00 to 17:00. During the week, no reservation will be necessary.
The maximum number of places available per day is limited to 800 at Insenborn – Beach 1 "An der Baech", 500 at Insenborn – Beach 2 "Fuussefeld", 200 at Lultzhausen, 300 at Burfelt, 400 at Liefrange and 300 at Rommwiss. The surveillance of these contingents will be carried out by a private security company.
Regarding parking, a fee of €6 will be charged on site on the beaches "An der Baech" and "Fuussefeld" in Insenborn. Free parking at "Am Kéilert" is also available in Insenborn. Bus lines 535 and 620 serve the area, as well.