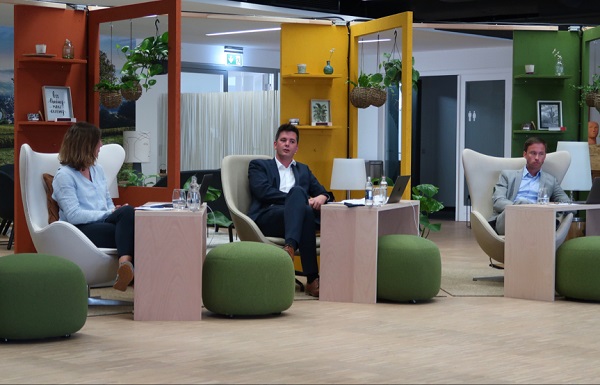 L-R: Annick Goerens; Lex Delles, Minister of Tourism; Sebastian Reddeker; Credit: MECO
The first leisure edition of Luxembourg's traditional Tourism Days took place via webinar on Tuesday 14 July 2020.
Organised by the General Directorate for Tourism, the webinar "Tourism Days - First Leisure Edition" brought together Minister of Tourism Lex Delles and representatives of Luxembourg's tourism sector for a constructive exchange on measures to be implemented in light of the COVID-19 crisis.
Tourism has been one of the sectors hardest hit by the coronavirus pandemic. Travel restrictions and the cancellation of several activities have undermined the industry. Nevertheless, Luxembourg reportedly has assets that are gaining in importance in the current context, such as outdoor activities that correspond to quality tourism, unspoiled nature and a welcoming culture. During this Tourism Days event, participants agreed that these assets should be highlighted in order to prepare for the post-crisis period while promoting tourism in accordance with health measures.
This is the reason why the government has drawn up a detailed recovery plan which particularly relies on the €3 million "Tourism Fund", the local market, the promotion of Luxembourg as a prime tourist destination, the digitalisation of the tourist offer and the strengthening of investment in the quality of tourist infrastructure.
Lex Delles, Minister of Tourism, explained that "our objective is to offer sustainable experiences focused on the quality of the offer. This is why we have set up the 'Tourism Fund', thus providing financial support to non-profit associations, which manage many tourist attractions and infrastructures. By favoring the local market and presenting Luxembourg, not as a default destination, but as a first choice tourist destination, we are exploiting the potential of the sector and positioning Luxembourg as a reference destination. We also ensure that our strategy is in line with sanitary measures. Our solid partnership and effective cooperation with players in the sector also remain key elements of our tourism policy".
Linda Gedink, Secretary General of Camprilux, added that "the most important thing is to convey a message of security on the European markets, so that tourist customers feel confident of booking their stay and coming to Luxembourg. Many Luxembourg campsites fortunately have a loyal clientele, who know from experience that our country is clean and safe and that the operators of campsites act responsibly".
Finally, François Koepp, Secretary General of Horesca, stated: "It is a pleasure to spend your holidays in Luxembourg, whether in the south, north, east or west. 'Safe to serve' is the message we need to get across to the general public. Luxembourg has put in place all the necessary procedures to guarantee the security of residents and tourists as much as possible. It is essential to promote our unique regions and our health and safety measures".