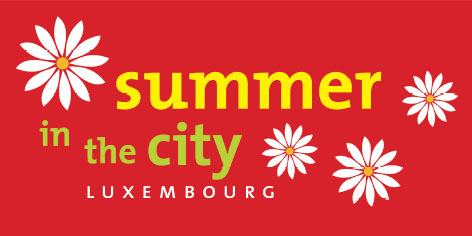 The Luxembourg City Tourist Office (LCTO) has announced that this year's Summer in the City 2020 will be proceeding, albeit with an abridged programme.
As in previous years, the 2020 programme includes, among other things, outdoor music and activities, exhibitions and many other cultural and tourist activities. This year, given the current situation, virtual initiatives and live streaming are also included in this special edition to ensure that there will be something for everyone.
Now available online at www.summerinthecity.lu, the programme (subject to modifications) is divided into five categories:
1. Outdoor activities and music
For all those who wish to come into Luxembourg-ville, many outdoor activities are being organised during the summer months. On the entertainment side, a ferris wheel in the "Kinnekswiss" city-centre park, entertainment and rides for children across the capital and a "drive & walk-in" cinema, to name a few, are being organised. Also, music lovers can expect a large selection of live concerts, including the "Bock op… méi intim" festival on the forecourt of the Abbaye de Neumünster, the "Congés annulés" festival on the forecourt of the Rotondes (in Bonnevoie) as well as the "LOA" electro festival at Place de l'Europe in Kirchberg.
2. Exhibitions
During the summer period, numerous exhibitions in the various cultural institutions of the city are being organised and are waiting to be discovered.
3. Shopping
Summer sales, Sunday openings, "Konscht am Gronn" market, the Big Braderie on 31 August, garage sale, flea market, "Glacismaart": this summer is full of bargain opportunities.
4. Tourism
Take advantage of summer to (re)discover Luxembourg-ville and take part in one of the official guided tours organised by the LCTO. The City Promenade is the perfect formula to (re)familiarise oneself with the essentials of the old fortress city. Follow in the footsteps of Wenceslas, former Duke of Luxembourg, by participating in the "Wenzel Circuit". If you want to explore the capital in complete privacy, the LCTO also offers guided tours with a private guide, in several languages (including English).
From 14 July to 30 August 2020, the Grand Ducal Palace opens its doors to visitors as part of exclusive guided tours. The LCTO organises up to 8 guided tours of the palace per day in several languages. Tickets are sold online at www.luxembourg-city.com and at the LCTO office at 30 Place Guillaume II.
5. Virtual offers
A large choice of virtual activities are available for those who cannot, or would prefer not to, go into Luxembourg-ville. One can discover the city of Luxembourg without leaving one's home.
The LCTO has stressed that the organisers of individual activities, including numerous institutional and private partners, will be deploying appropriate security and sanitary measures. The LCTO is also asking member of the public to use one's common sense and to show responsibility and solidarity, concerning respecting barriers, etc.