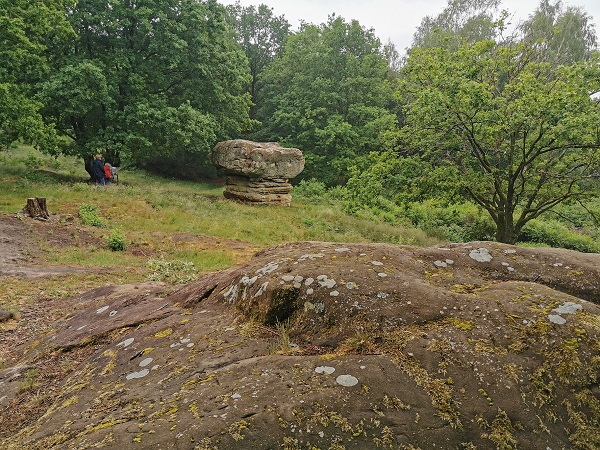 Champignon in Nommern; Credit: ORT MPSL
The Regional Tourist Office of the Mullerthal Region has announced that it is offering, along with the Natur- & Geopark Mëllerdall, four different kinds of guided tours this summer in the area of the UNESCO Global Geopark candidate; these tours will run from 15 July until 13 September 2020.
Every Wednesday, except on 22 July and 5 August 2020, a guided tour will leave from the ponds in Fischbach at 18:00. This easy hiking trail is ideal for a family outing. The length of the tour is 4.3km, which takes two to three hours to complete.
On Thursdays, the organisers will offer a guided hiking tour to the Champignon in Nommern, an historic rock that has the shape of a mushroom and has been classified as a geotope by the Natur- & Geopark Mëllerdall. Tours will depart from the municipality of Nommern at 18:00 and last two to three hours.
On Saturdays 25 July, 1, 8 and 29 August and 5 September 2020, there will be a geological hike for families to the Hëlt in Rosport. Departure is at 10;00 at the kiosk next to the adventure playground in Sauerpark. The tour leads through an enchanted forest with spectacular rock formations and through vineyards. The Hëlt is also one of the 22 geotopes defined by the Natur- & Geopark Mëllerdall. For the 4km-long, quite steep hike, participants should plan up to three hours.
A guided bicycle tour from Larochette is also on the programme on Sundays. Tours start from the youth hostel at 10:00. Anyone wishing rent a bicycle from the youth hostel should first advise Rentabike Mëllerdall and plan the necessary time to adjust the bike. Participants will cycle along the national cycle path PC 5 "Piste Cyclable Ernz Blanche" towards Supp. The theme of the tour is the renaturation of the Supp and the resulting changes on the local flora and fauna. The tour is 10-15km in length and lasts around two to three hours.
The tours will be held in Luxembourgish and German and maximum 20 people are allowed to join. Tours cost €5 for adults whilst children and adolescents up to 16 years participate for free. The cost of bicycle rental is not included.
Due to the current sanitary situation, participants are require to register in advance for all tours, either via email: info@mullerthal.lu or tel.: 720457-1.