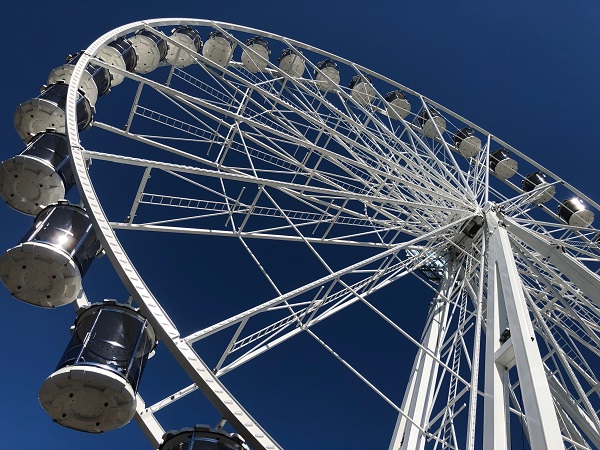 Credit: Ville de Luxembourg
Despite the cancellation of traditional events such as the Schueberfouer due to the COVID-19 pandemic, the City of Luxembourg has prepared an alternative activity programme for summer 2020.
These events will run from this Saturday 11 July until Sunday 13 September 2020 across the capital. The programme, entitled "D'Stad lieft" ("The city lives") aims to bring back urban life to the different districts after the confinement period, without attracting crowds of people in one place and all the while respective the health regulations in force.
Ferris Wheel & Lounge
Highlights include free carousel rides and attractions every day from 11:00 to 22:00, starting this Saturday. The City of Luxembourg will install a 50-metre-high Ferris wheel, as well as a "lounge", on the Kinnekswiss. Ferris wheel prices: €6 (€4 for children under 10), €20 for a group of minimum four people.
Quartiersfest
Various squares and parks across Luxembourg City's districts will host several activities daily between 11:00 and 22:00, from Saturday 18 July until to Sunday 13 September 2020. The sites are: Place Jeanne d'Arc (Bonnevoie); Laval park (Dommeldange / Eich / Pfaffenthal / Weimerskirch); Merl park (Hollerich); Place de Roedgen (Cessange); Rue de Strasbourg (Gare); Place Thorn (Merl); and Place Auguste Laurent (Limpertsberg). Access is free, as is the use of the carousel and other rides and attractions. Food establishments, confectionery, shooting, duck fishing, small games and sales stands operate at market prices.
Theaterplage
Following last summer's success, and given that sanitary measures now allow it, a new edition of the "Theaterplage" project of the Place du Théâtre will be offered daily between 10:00 and 22:00. From this Saturday, a large 350 m2 sandpit with deckchairs and parasols in "multiplicity" colours, a decorated piano, a pétanque track, various plants and colourful decorations will welcome visitors of all ages. Two chalets for catering will also be installed.
Summer bei der Gëlle Fra
Attractions will be installed on the Place de la Constitution. A gastronomic village and a lounge terrace, as well as a street vendor market, will be set up from Saturday 18 July.
Street Animation
Throughout the summer, small fairground attractions will allow residents and visitors to the capital to take short breaks in the pedestrian streets. Street Animation activities will commence this Saturday 11 July 2020 and run daily from 10:00 to 20:00 at the following sites: Villa Vauban park; Grand-Rue intersection on Rue Aldringen; Piquet (Rue de la Poste); Roude Pëtz (Grand-Rue); Square Jan Palach.
Kino um Glacis - Drive & Walk-in and Drive-In Food Village
From Friday 17 July to Saturday 1 August 2020, the City of Luxembourg and the Cinémathèque will turn Glacis car park into an open-air cinema, accompanied by a "Drive-in Food Village". Tickets cost €10 per car / sofa (for pedestrians) per film and can be purchased via Luxembourg Ticket. Films will be screened every evening at 21:30. The detailed "Kino um Glacis" programme as well as the rules to be observed by the public on the site are available on www.cinematheque.lu. The Drive-In Food Village will be open daily between 11:00 and 22:00 (until midnight on film nights), from Friday 17 July until Sunday 13 September 2020; it is accessible by car or on foot.
Glacismaart
Since the Schueberfouer will not take place this summer, the Glacismaart will be held exceptionally in August, on Sunday 16 August 2020 from 10:00 to 17:00. Future dates include 20 September, 18 October and 15 November 2020.
Konscht am Gronn
The open-air art festival "Konscht am Gronn" will resume on Sunday 2 August 2020 from 10:00 to 18:00 around the Munster bridge in Luxembourg-Grund. Other dates for 2020 include 6 September and 4 October.
Vide-grenier
The garage sale in Place Guillaume II will also resume on Sunday 2 August 2020, from 10:00 to 17:00. Register by Friday 10 July 2020 online at vdl.lu. Other dates for 2020 include 6 September and 4 October.
Flea market
On Saturday 8 August 2020, the flea markets will resume in Grand-Rue, Rue Aldringen and at Le Piquet, from 08:00 to 18:00.
More information on the D'Stad lieft programme is available at summer.vdl.lu.