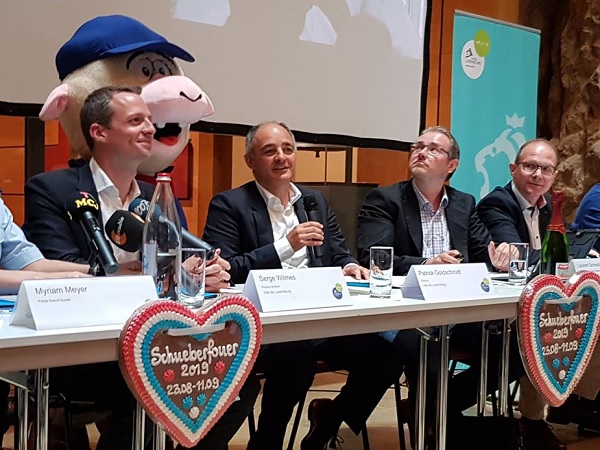 L-R: Serge Wilmes (VdL); Lämmy the Schueberfouer mascot; Patrick Goldschmidt (VdL); Laurent Schwaller (VdL); Credit: Jazmin Campbell
In the run up to the opening of the 679th Schueberfouer this Friday, the College of Mayor and Aldermen of the Ville de Luxembourg (VdL) today presented, together with representatives of the Fédération nationale des commerçants forains (National Federation of Fairground Merchants, FNCF) and Luxembourg's emergency services, this year's set-up and novelties.
The 2019 edition of the Schueberfouer, Luxembourg City's traditional fair founded in 1340 by John the Blind, will bring together 231 attractions and stands. Whilst most of the exhibitors are of Luxembourgish origin (35.1%), many French (32.9%), German (16.9%), Belgian (13.4%) and Dutch (1.3%) merchants will also be present, as well as one Australian. It should be noted that some 800 exhibitors applied for a spot at this year's fair.
Another novelty this year is the "Lämmy Fouer Spill" raffle, organised by the FNCF and featuring the Schueberfouer's official mascot, a sheep named "Lämmy". Participants will have the chance to play and win tickets to Europapark. Lämmy will be selling these raffle tickets on 24, 25 and 31 August and on 1, 7 and 8 September 2019, between 12:00 and 13:00. In addition, "Lämmy on Tour" will see the fluffy mascot sell Schueberfouer souvenirs on 26 and 30 August and on 3, 6 and 10 September between 14:00 and 16:00. Proceeds will go towards a charitable cause, such as helping victims of the recent tornado in southern Luxembourg.
As previously announced, in addition to its classic rides, the 679th Schueberfouer will feature new attractions, namely the greatly anticipated Alpina Bahn, which is the world's largest mobile roller coaster, as well as Intoxx, Transformer, Techno Power, Aeronaut and Crazy Clown. New food stands will also be present: Pas de chi-chi, Frozen Yogurt by Yomara, Cornoa Corner, Confiserie Popcorn and the new concept of Den Hollaenner. A new games stand, Ballwerfen, completes this year's list of novelties.
With regards transport and mobility, the VdL maintained its hopes that the public will make use of the City's public transport network in an effort to reduce car pollution. In this context, the Schueberfouer-goers are invited to use the Vel'Oh! Bikes, as well as the VdL's bus and tram networks which will have extended hours for the duration of this 20-day fair. The VdL mobile application will show updated times. Whilst there will be no Schueberfouer application this year, all relevant information will be available on the following sites: vdl.lu, fouer.lu and the new fouer.vdl.lu.
The Luxembourg Police, supported by colleagues from France, Belgium and Germany, and the Corps grand-ducal d'incendie et de secours (rescue services, CGDIS) will once again be on site this year to guarantee security at the Schueberfouer. Indeed, the police have set up the "#sécherheet" (security) campaign to provide visitors with safety tips, for instance regarding pickpockets.
Finally, visitors will be able to access the 679th Schueberfouer via eight entrances and there are seven public toilets on site, including two for people with reduced mobility and one bathroom with a baby changing table.
The 2019 edition of the Schueberfouer will begin this Friday 23 August at 17:00, running until Wednesday 11 September.