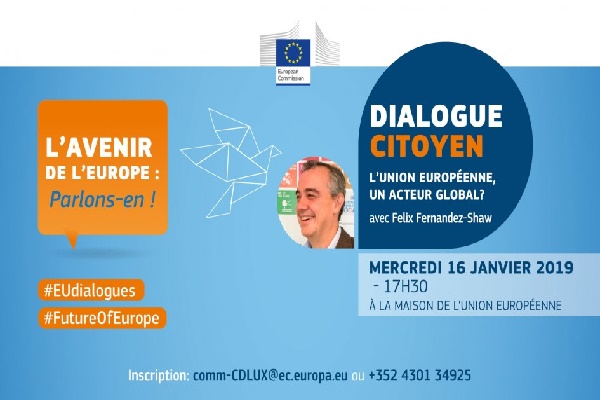 The next EU citizen's dialogue, taking place on Wednesday 16 January 2019, falls under the theme of "The European Union, a global player?".
As the European elections draw nearer, the Representation of the European Commission in Luxembourg is organising a citizen's dialogue on the EU's global role next Wednesday at 17:30 at the Centre d'information européen - Maison de l'Union européenne. Speaking at the event will be Felix Fernandez-Shaw, a specialist on foreign and development policies of the European Union.
After a long career in the service of Spanish diplomacy, Fernandez-Shaw joined the European External Action Service in 2011, then the European Commission as a member of the cabinet of the High Representative/Vice-President Federica Mogherini. In 2018, he was appointed Director in charge of International Cooperation and Development Policy within the European Commission.
Fernandez-Shaw's presentation will take place in French, but questions can also be asked in English.
The event will be followed by a cocktail.
As places are limited, interested persons are asked to register via email: comm-CDLUX@ec.europa.eu or via tel.: +352 4301 34925.