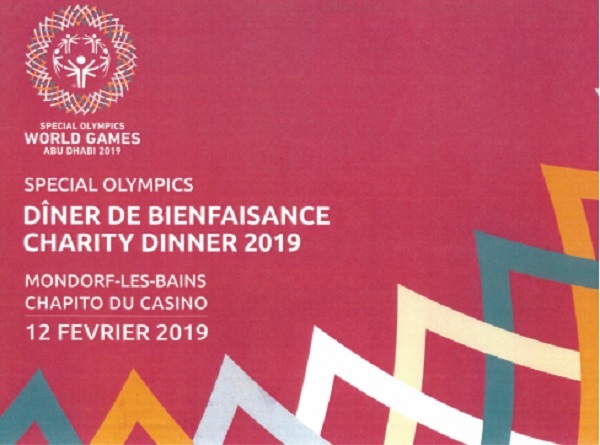 As part of its 40th anniversary celebrations, Special Olympics Luxembourg is organising a Charity Dinner on Tuesday 12 February 2019 from 19:00 at the Chapito at Casino2000 in Mondorf-les-Bains.
The evening will benefit the team of Special Olympics Luxembourg for the Special Olympics Games in Abu Dhabi in 2019. These Games are the equivalent of the Olympic Summer Games for people with intellectual disabilities and Luxembourg will be represented at this major event, which will see the participation of some 7,000 sportsmen and sportswomen from more than 180 countries of the world, with a team of 37 sportsmen and 17 coaches and chaperones.
Special Olympics Luxembourg is the sports federation that offers all people with intellectual disabilities the opportunity to practice a suitable physical activity, to follow regular training and to take part in competitions corresponding to their aptitudes. The Federation also works at the level of awareness for the needs of the target group and especially for the inclusion of these people in societal life.
Those wishing to support this initiative can either participate in the charity dinner or give a donation (a/c LU21 0141 1400 7100 0000 at ING Luxembourg, with reference: booking dinner or donation); in doing so, you offer the SOL athletes access to sports activities which enable them to ensure their physical and psychical fulfilment as well as social integration.
Tickets to the Charity Dinner cost €125/person and can be reserved by email: info@specialolympics.lu​