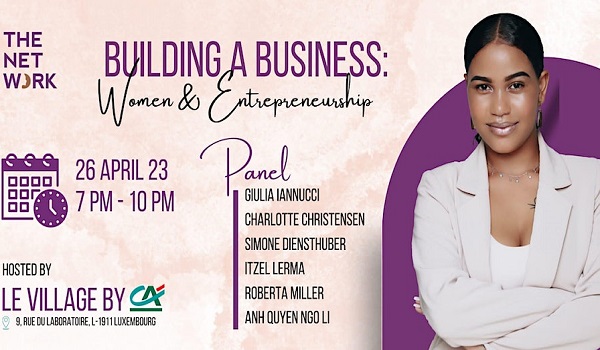 Credit: The NETWORK
The NETWORK, Luxembourg's oldest international professional business women's association promoting networking and personal and professional development, will hold an event dedicated to women entrepreneurship on Wednesday 26 April 2023 at Le Village by CA Luxembourg in Luxembourg-Bonnevoie, from 19:00 to 21:00.
The event - the first held under The NETWORK's new Board - will take the form of a panel discussion dedicated to "Building a Business: Women and Entrepreneurship". With women entrepreneurship being a rapidly growing business segment, The NETWORK's event will highlight the role of women in business today and provide attendees with tips and tools on how to develop and grow their business.
Giulia Iannucci, CEO and founder of KnowThyBrand Women, will moderate the event, which features the following panellists: Anh Quyen Ngo-Li, Communication Manager at Microlux; Charlotte Christensen, founder of Anyallergyfood and Social Business Incubator mentor; Simone Diensthuber, social service worker and Women's Business Network member; Roberta Miller, Ambassador for She_Builds Global Initiative; Itzel Lerma, entrepreneur and business mentor.
This event is free for The NETWORK members and €20 for non-members. Tickets are available via Eventbrite.