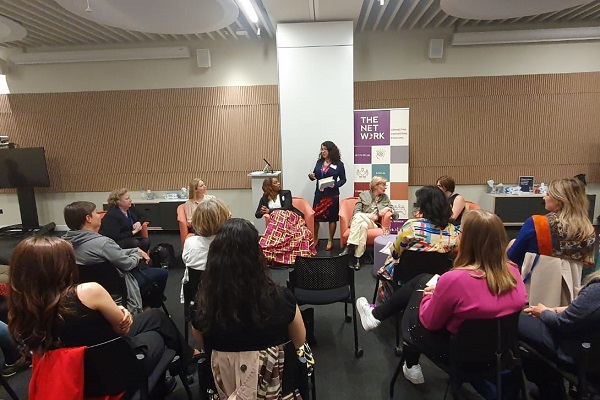 President Mariana Florea addresses attendees at one of The NETWORK's events; Credit: Tania Yordan / The NETWORK
As 2022 comes to a close, Chronicle.lu sat down with Mariana Florea, President of The NETWORK, to learn about the Luxembourg-based international professional women association's activities over the past year and what to expect from The NETWORK in 2023.
Chronicle.lu: Founded in 1991, The NETWORK celebrated its 30th anniversary last year, with celebrations culminating in a special anniversary charity gala in March 2022 (previously delayed due to the COVID-19 pandemic). Please elaborate on how The NETWORK and its mission have evolved over the years, particularly over the past year.
Mariana Florea: I would say that over the years The NETWORK continued the tradition of supporting, connecting and engaging women. Diversity and inclusion were not exactly an in vogue subject 30 years ago, but they certainly are now and in the past years we made sure we organised events around this important topic as well.
Chronicle.lu: You were elected President of The NETWORK in March this year and you shared your vision with us during an interview in April
. One potential challenge you had mentioned then was the transition back to in-person events and networking after two years of online events. What impact did relaxed COVID-19 restrictions in Luxembourg have on event organisation this past year? Did The NETWORK opt for in-person, virtual or hybrid events, or a mix of these formats?
Mariana Florea: I remember we were among the first associations to organise events online to keep in touch with our members and supporters during the COVID restrictions times.
That being said, we were happy to go back to in-person events and looking at our attendance numbers we can agree that our members and supporters are rather happy to meet and network in person at our events.
Chronicle.lu: What was the feedback of members and attendees regarding events? Did eased restrictions impact The NETWORK's membership numbers?
Mariana Florea: We were please to read the feedback received from our survey this year. Overall, members are enjoying the fact that we have different formats for our events and we adapt them to the topics and the venues welcoming us.
In terms of numbers, we are glad to see members renewing their memberships and at the same time, we see increased numbers of new members.
Chronicle.lu: What have been some of the highlights at The NETWORK this year?
Mariana Florea: Because of COVID, we waited one year to celebrate 30 years since the inception of The NETWORK, and for sure the Gala was the highlight of 2022. Seeing so many members and friends joining us to celebrate such an important milestone was very heartwarming. Their generosity combined with a few years of raising money with our regular events made it possible to donate the €9,000 to the charities Femmes en Détresse, Think Pink and Dress for Success.
For me, each event in 2022 could be a highlight as they are all organised around our main pillars: personal and professional development; diversity and inclusion; connecting and networking; charity for women associations active in Luxembourg.
Chronicle.lu: What does 2023 have in store for The NETWORK and its members? How many events do you plan to organise next year?
Mariana Florea: We organise events every month, with a summer break in August, when the Board of Directors and their teams get together to decide the strategy for the next year, based on the results of the survey we send to our members.
Events are free for members, with the exception of the summer drinks and Christmas event.
2023 events will be of course organised around our main pillars (mentioned above):
January: Wellness in the New Year: Meditation & Mindfulness
February: Personal development event - Discover Your Power
March: AGM & The Expat Experience
April: Building a Business: Women & Entrepreneurship
May: Climate Change & Women
June: The Great Reunion- Rediscovering Your Career After a Break
July: Summer Drinks
September: Charity event
October: Changing the Face of Leadership: Ethnic & Gender Diversity in the Workplace
November: Party of One...Move Forward After Being Decoupled
December: annual Christmas event