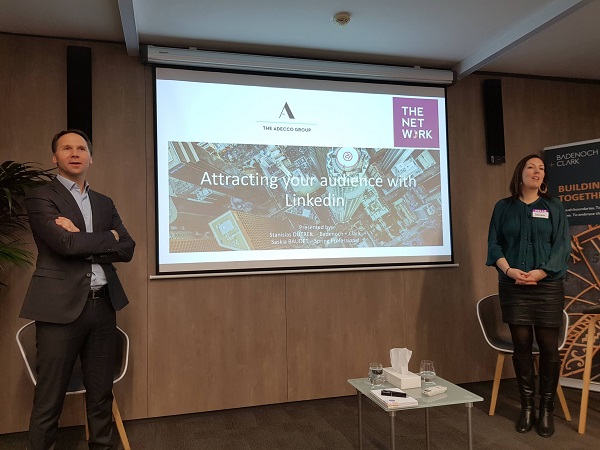 Recruitment experts Stanislas Dutreil and Saskia Baudet; Credit: Jazmin Campbell
On Wednesday evening, The NETWORK, Luxembourg's oldest international professional business women's association, held an event dedicated to attracting an audience on LinkedIn at the premises of Badenoch + Clark in Luxembourg City.
This professional development event (one of the four pillars of The NETWORK) saw two recruitment experts from The Adecco Group, Stanislas Dutreil (Managing Director at Badenoch + Clark) and Saskia Baudet (Manager at Spring Professional), share tips on attracting an audience on LinkedIn.
Their presentation was divided into three parts, followed by a Q&A session: why use LinkedIn; how to have an All-Star profile; and the good way to use LinkedIn.
LinkedIn - Why?
In their presentation, Stanislas Dutreil and Saskia Baudet highlighting the usefulness of LinkedIn as a medium for professional purposes, as opposed to other social networks which each have their own purpose and targeted audience. They stressed the importance of being "known for good reasons, by good people and on a good support", i.e. LinkedIn, and added that recruiters are more likely to look at a candidate's LinkedIn profile than on other social networks. Another advantage of LinkedIn, according to the experts, is its nature as a worldwide network of around 600 million users. Summing up the various uses of LinkedIn, Stanislas and Saskia recalled that users can look for a new job, customers or opportunities, stay informed, network, develop their personal branding and increase visibility for themselves and/or their company. They also stressed the importance of having a quality network, rather than 100s on connections which are unrelated to one's field.
Top tip: the speakers recommended checking out their "social selling index" (SSI) to check their impact on LinkedIn (https://business.linkedin.com/sales-solutions/social-selling/the-social-selling-index-ssi)
How to have an All-Star profile
According to the experts, to have a real impact on LinkedIn and achieve an "All-Star" profile, users should have at least 50 (quality) connections, a recent professional profile picture (preferably the same as in CV) and a full profile that clearly shows what they do, where they work and what they want from LinkedIn - this should be clear to recruiters within five seconds! Stanislas Dutreil added that using the right keywords really is key and that these can be evaluated using tools like tagcrowd.com and compared using Google Trends. He also recommended putting job and education information (including location) in the same order on LinkedIn as in one's CV.
Top tips: LinkedIn users can customise their URL in settings so that it looks better on their CV; add a personal note when sending a connection request to someone you do not know directly, and don't be afraid to politely decline invitations which are unrelated to your interests or field.
Good way to use LinkedIn
Last but not least, Stanislas Dutreil and Saskia Baudet offered their tips on the best way to use LinkedIn. They recommended paying attention to who views your profile (and possibly get in touch with them), follow industries and companies in which you are interested to stay up-to-date, actively participate in online discussion (quality over quantity), set job alerts if looking for employment, personalise invitations (as mentioned above), give endorsements, use one contact to interact with someone else and join alumni groups. They also stressed the importance of regularly using LinkedIn to maintain visibility and a strong SSI. Other ways to increase visibility include adding a professional picture and videos, using hashtags (keywords), tagging an individual or company in posts (so their networks can see them too) and posting during peak times, which differ from one social network to the other.
Top tip: post on LinkedIn between 07:00 and 09:00 and between 17:00 and 18:00, particularly on Tuesdays and Thursdays, for the most visibility.
Following the presentation, the audience had the opportunity to ask some questions before networking over snacks and drinks.
The next The NETWORK event will be the Annual General Meeting (AGM) on 18 March 2020.