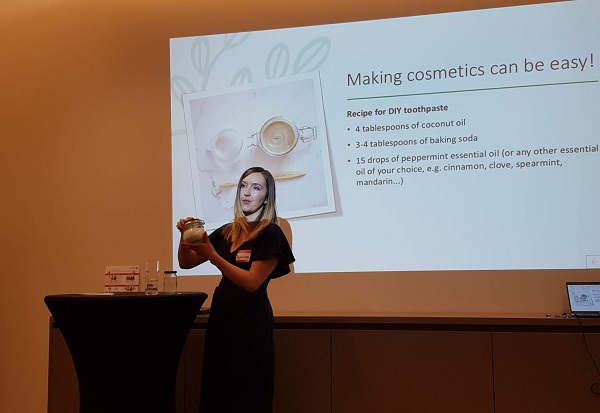 Agnieszka Halgas; Credit: Jazmin Campbell
On Wednesday evening, The NETWORK, Luxembourg's oldest international professional business women's association, held its first event of the new year, entitled "New Decade New You!", at Vistra S.a.r.l. in Luxembourg-Kirchberg.
This event dedicated to personal growth, namely holistic living and well-being, brought together three inspiring female presenters: Agnieszka Halgas, co-founder of J'adore bio, Cristina Castillo, founder of The Good Market and B'Real, and Jessica Janusz, a certified yoga teacher and founder of Anushia.
In her opening speech, The NETWORK's President Marie Louise Ashworth explained the association's decision to do something a little different to kick-start the new decade, with an event dedicated to "help[ing] ourselves from within and through our skin to help our bodies and minds". She then welcomed the three presenters.
The first presenter of the evening, Agnieszka Halgas, co-founder of J'adore bio, an online store and concept store based in Luxembourg, presented some skin-related facts showing why it is important to read the ingredients in the skincare products we use daily, not least because these are absorbed into the bloodstream. Some of the worst offenders can mimic hormones like oestrogen and interfere with the hormonal system, lead to fertility and/or pregnancy issues and are linked to cancer. She recalled that whilst the end-product may be tested for safety by manufacturers, the individual ingredients often are not.
Agnieszka Halgas went on to list the most common toxic ingredients found in skincare products, namely parabens, chemical UV filters and petrol-based ingredients such as mineral oil and paraffin oil. Regarding natural alternatives, she recommended products using vitamin E (as a preservative, rather than parabens) and sunscreen with mineral UV filters, among others. She added that a "blacklist" of ingredients to avoid was available on jadorebio.com and recommended using a mobile application such as EWG Healthy Living to scan products and check the safeness of their ingredients. This could serve as a first step to switching to more natural alternatives before consumers become more familiarised with the often complicated terms used on product ingredients lists. She also suggested buying products with reputable certifications, at least in the beginning, since there are already regulations in place. To kick-start this transition, she suggested switching products that stay on the skin the longest, such as make up which stays on the face all day, and experimenting with DIY, ie making your own cosmetics. Here, she shared a simple recipe for homemade toothpaste using coconut oil, baking soda and scented mineral oils. She came to the conclusion that whilst organic products may seem more expensive at first glance, being mindful means using fewer products which saves money (and our skin and health) in the long-term.
Next to present was Cristina Castillo, founder of The Good Market, an online and joint concept store with J'adore bio, and B'Real, a service aimed at making healthy eating more accessible (at corporate events, etc). Having built on her own frustrations from having to read labels and doing lots of research during her healthy eating journey, Ms Castillo decided to set up The Good Market, which sells food products that contain only "real and natural ingredients". Regarding the term "real food", she specified that this included natural, healthy, simple food as well as "good" processed foods, ie healthy foods that have been minimally processed and contain five or fewer ingredients, such as dark choc (more than 75% cocoa), plant-based milks, nut and seed butters and frozen fruit and vegetables.
Discussing the transition to a long-term healthy lifestyle, Cristina Castillo emphasised the importance of eating healthier rather than restricting calories and learning to listen to our bodies' signals. She went on to list some highly processed foods that should be avoided, and some alternatives, such as refined oils and sugars (replace with fresh and dried fruit), white flours, refined cereals and granola (aim for options without refined oils and low sugar content or bake your own), sugary drinks and "fruit" juices (better nutritionally to just eat the fruit), highly processed meats and alcohol. For a healthy balanced meal, she suggested basing all meals around fruit and vegetables, accompanied by complex carbohydrates, protein (from good sources) and a little bit of "good" fat (from seeds, nuts, etc). Some other tips for mindful and conscious eating included meal planning, keeping junk food out of the house and keeping lots of fruit and vegetables on hand and reducing the amount of meat we eat per week. She concluded that the healthy eating journey is all about experimenting whilst being mindful of what we are eating, and recalled that a busy life does not have to mean an unhealthy diet nowadays, where there are more and more healthy options at restaurants and supermarkets, as well as free content on the internet for recipe ideas.
Last but not least, Jessica Janusz, founder of the Anushia yoga studio in Kirchberg, took a more participative approach in her presentation. She began by asking the audience if there mind was really in the present moment, before getting everyone up to do some light yoga and breathing exercises. She recalled the power of posture and taking a few conscious breaths each day to change our energy and mood. Ms Janusz then shared her own personal journey to well-being which eventually led to her becoming a yoga teacher and wellness expert. She emphasised the power of our thoughts which have an impact on our feelings, then our beliefs, our actions and finally our results. She left the audience with the simple but powerful question: "Which thoughts will you allow in today?", adding that new year resolutions often do not stick because our mindset has not changed.
The NETWORK will hold its next event, "Attracting your Audience with LinkedIn", on 12 February 2020 at Badenoch + Clark.