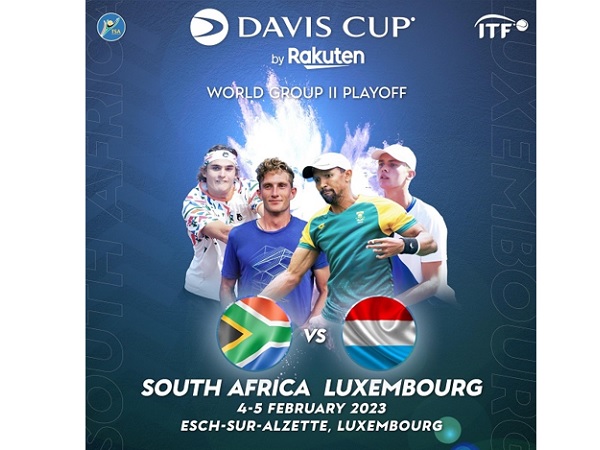 In men's tennis, Luxembourg will be hosting a Davis Cup match at the National Tennis Centre in Esch-sur-Alzette on Saturday 4 (from 14:00) and Sunday 5 February (from 12:00) 2023.

The match will be a World Group II play-off relegation tie and will see two singles matches on the Saturday, followed by a doubles and reverse singles matches on the Sunday.

South Africa's Davis Cup captain Christo van Rensburg has announced his team - a mixture of experience and youth - which will see world-renowned doubles specialist Raven Klaasen (ranked #56) leading the visitors against Luxembourg. The other players include three players who will be making their debuts in the competition: 26 year-old Kris van Wyk, 21 year-old Alec Beckley and 18 year-old Devin Badenhorst. Their top-ranked singles player, Lloyd Harris, is in the early stages of his comeback from wrist surgery, and talented prospect Khololwam Montsi is also unavailable.

For Luxembourg, captained by Gilles Müller, this team is made up of 25 year-old Alex Knaff (13 caps; singles ranking #597), 21 year-old Chris Rodesch (12 caps; singles ranking #683), Raphael Calzi (7) and Noe Plique (0).

Last June, Luxembourg defeated teams from Moldova, North Macedonia and Montenegro, and lost to Georgia, in a tournament played in Montenegro.

The winner of the tie will compete later this year in the World Group II division, while the loser will be relegated to Regional Group III.

In the only previous Davis Cup tie between the two teams, South Africa won 5-0 in a home tie in a Euro/Africa Group II clash in 2016.

Tickets: €20 (1 day); €35 (2 days); U16s free-of-charge; Tickets from www.flt.lu; payment before 2 February to BGL BNP Paribas LU41 0030 7000 0183 0000. The Saturday tickets also grant access to the PastaParty after play is completed.