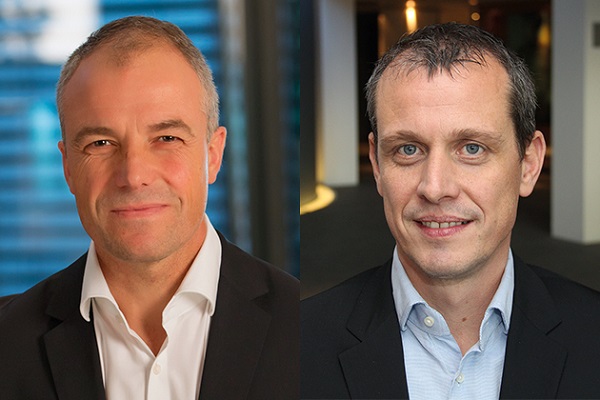 L-R: Vincent Gouverneur, EMEA Investment Management Leader at Deloitte; Jacquou Martin, Managing Director at Deloitte Luxembourg; Credit: Deloitte
Deloitte Luxembourg hosted the 7th Fund Tax Reporting Conference on Friday, as the Fund Tax Reporting Roadshow drew to a close.
Spanning across five different countries, Deloitte's 7th Fund Tax Reporting Conference brought together industry leaders from across the globe to discuss the everchanging and at times challenging tax environment.
Deloitte professionals from five jurisdictions joined forces to offer their audience further clarity on the constantly evolving tax environment at this year's Fund Tax Reporting Roadshow. Tax reporting specialists guided the audience through recent developments and hot topics on the latest tax regime challenges encountered by countries such as the UK, Germany, India and Denmark among others.
Vincent Gouverneur, EMEA Investment Management Leader at Deloitte, commented: "It is thanks to these roadshows that we are able to ensure our networks stay up-to-date and prepared to face future challenges presented by the tax landscape. With specialist insight provided by each speaker and an environment in which professionals feel encouraged to explore and understand the intricacies of fund tax reporting, each conference offers positive and productive outcomes".
At the end of last year, Deloitte Luxembourg launched the roadshow at their headquarters, D.Square. Clients were invited to the first of a string of conferences before the tour hit the road. In the following weeks, the expert delegation shared their insights with audiences from Switzerland, Ireland, the UK and France.
As an overarching theme and focal point of much discussion, the event saw developments in tax legislation take centre stage. As a complex and volatile area in the field of tax, the need for clarity is always in demand. During a panel discussion at each location, experts in the field drew on their experience to discuss lessons learned from latest legislation updates in Germany, Austria, France and Switzerland.
The spotlight then shifted to the Romanian capital market and the requirements for investment tax compliance, as well as the new reporting regime for foreign investment funds in Denmark. In addition, audience members were the first to experience Deloitte's new digital solution to ease transfer tax decisions in a live demonstration.
Diverging from Europe to a more global view, there was a presentation on the recent capital gain tax updates for India, as well as details surrounding the newly introduced rules for non-residents in the UK.
The event was also an opportunity to demonstrate iPACS Transfer Tax.
Jacquou Martin, Managing Director at Deloitte Luxembourg, concluded the conference sharing his final thoughts on the pressing matters facing the tax industry in the coming months.