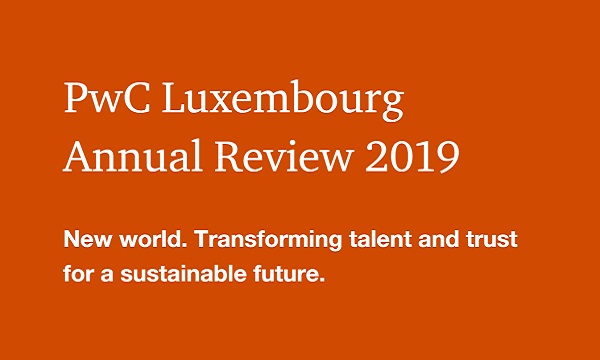 PwC Luxembourg has reported revenues of €464.4 million for the year ended 30 June 2019, up by 4.21% from €445 million last year.
This year's figures reflected, on the one hand, the company's growing ongoing investments in the upskilling of its people and technology, and on the other hand, a decline in certain areas in which PwC is strongly positioned. These include German Tax reporting and Regulatory Advisory (e.g. MiFID II), which have structurally declined over the past twelve months and as such impacted negatively the firm's global turnover in Tax and Advisory.
Overall, tax business was 2% down on the prior year. Meanwhile, assurance business and advisory business experienced a strong year with over 8% and 5% growth respectively.
John Parkhouse, CEO of PwC Luxembourg, commented on the company's performance: "From a business perspective here in Luxembourg, this year has been a tougher one, where we see the impacts of changing regulation and overall economic downturn hitting our results. In particular, the demise of German Tax Reporting for mutual funds and work related to MiFID II⁠— both areas where we have supported our clients with great success⁠—were, even if planned for, a significant drag on our overall performance. As such, our resulting 4.2% growth remained above budget for the year and we see a strong start for the year to come but remain cautious as to the medium term prospects with the need to ensure that Luxembourg remains competitive in an increasingly uncertain global market-place".
Discussing problem-solving and upskilling, Mr. Parkhouse added: "I am particularly proud to announce our global initiative⁠—"New Skills. New World"⁠—whereby we commit to investing over USD $3 billion in the coming four years to transform the skills of our 275,000 people across the PwC Network and to also drive this across our various communities with the aim of upskilling over fifteen million people in the coming four years".
As of 30 June 2019, the firm's workforce comprised 2,764 employees from 75 different nationalities (46% women, 54% men). As of January 2020, the projected headcount is targeted to breach the 3,000 people barrier.
In addition, PwC will open a unique European open Artificial Intelligence (AI) lab at the beginning of 2020 to support Luxembourg's national AI Vision, In collaboration with PwC US and Japanese AI labs, the Luxembourg AI lab will focus on the major innovation and developments for financial services, healthcare, cybersecurity and government applications. It will provide an open responsible AI platform composed of labelled data, algorithms, technologies for companies and governments to develop and test new high quality AI applications.
PwC Luxembourg also became the first of the "Big Four" in the EU to accept Bitcoins as payment from its client as of 1 October 2019.
John Parkhouse concluded: "We believe strongly that business likes ours not only have the power, but also the duty, to play an active role in making our world change for the better. It is clear that a new system has to emerge. A system that will realign business, economy and society. At PwC Luxembourg, we are convinced that delivering on our purpose ('Building trust in society and solving important problems') we can contribute to this".
PwC Luxembourg has detailed its results for the year ended on 30 June 2019 in its third Annual Review, based on GRI (Global Reporting Initiative) standards. The report "New world - Transforming talent and trust for a sustainable future" can be downloaded from https://www.pwc.lu/en/annual-review/pwc-luxembourg-annual-review-2019.html.