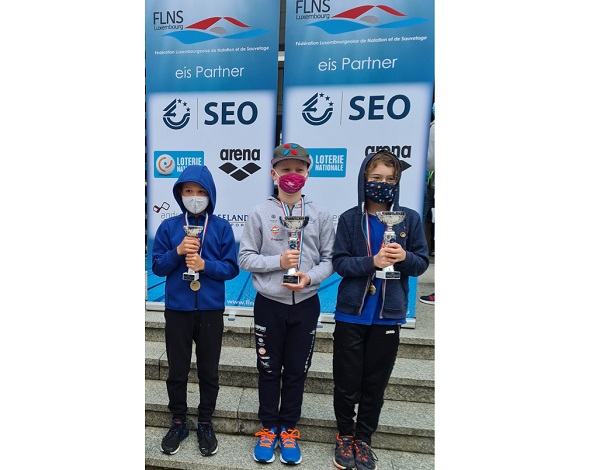 Winners of boys' 2011 year group (L-R:) Hugo Leclerq, 3rd place; Felix Visser, 1st place; Gregory Dondelinger, 2nd place; Credit: FLNS
On Saturday 5 June 2021, 138 young Luxembourgish swimmers took part in the Grand Prix de l'Avenir swimming gala in Ettelbruck.
After months of no swimming competitions, Luxembourg's best young talents could showcase their training achievements at this year's Grand Prix de l'Avenir event.
At the end of the four individual races, Firdaws Meddouri from the CNDu (Dudelange) swimming club won in the girls' 2012 year group (i.e. participants born in the year 2012), with 48 points, ahead of Hanna Anisko from CNP (Pétange), with 36 points.
The winner's trophy in the 2011 year group went to Dana Resl from CNDu, with 48 points. Liz Muller from Swimming Luxembourg (SL) came second with 31 points and Lea Elsen from SCDE (Ettelbruck) came third with 26 points.
SL's Emma Barthel won the 2010 year group with 32 points and relegated her teammates Leni Leonard (35 points) and Mira Pavelek (34 points) to their places.
In the 2009 year group, there was a tie between Maja Milanovska and Theodora GruijMartins (both SL). Both were equal in terms of the number of best placements. Consequently, adding their FINA points determined that Maja Milanovska (1,432 points) was ahead of Theodora (1,384 points). In third place was Sophia Constantin (SL) with 26 points.
In the boys' categories, Felix Visser (SCDE, 48 points) won ahead of Gregory Dondelinger (SL, 30 points) and Hugo Leclerq (SL, 24 points) in the 2011 year group.
In the 2010 year group, there was a tie between Lennox Scheeck from CNP and Vasco Carneiro from SL; both had 39 points. Due to his better placements, Lennox, who placed 1st twice, won ahead of Vasco. Third place went to Robin Colomb from SL (30 points).
Stefano Valentini from SCM (Mondercange) won in the 2009 year group with 48 points, ahead of Inaki Reinesch (SCD, 34 points) and Deyan Reding (SL, 26 points).
Mats Visser (SCDE) triumphed in the 2008 year group with 45 points. Second place went to Pablo OrtizBogdanov (SL, 35 points) and third to Fynn Kunen (SL, 29 points).
A total of 138 young swimmers from eight Luxembourg clubs took part in this year's swimming gala.