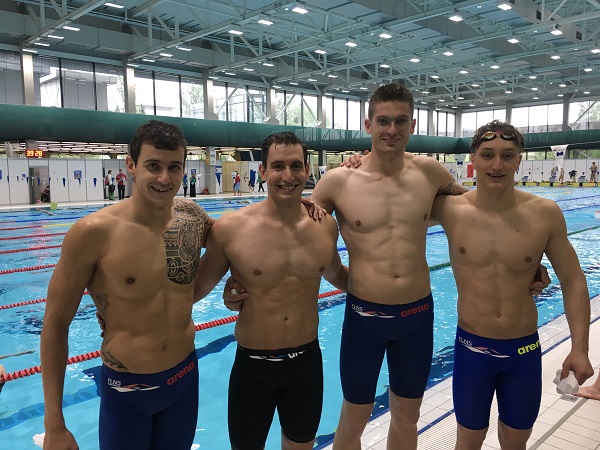 L-R: Pit Brandenburger; Raphael Stacchiotti; Max Mannes; Ralph Daleiden Ciuferri; Credit: FLNS Luxembourg swimming federation
The Luxembourg swim team has set a new national record at the European Swimming Championships in Budapest, Hungary; the championships were originally scheduled to take place in May 2020 but were postponed due to the COVID-19 pandemic until 10 to 23 May 2021.
At the end of the preliminary runs, the Luxembourg swimming quartet composed of Max Mannes, Raphael Stacchiotti, Pit Brandenburger and Ralph Daleiden Ciuferri set a new national record in the 4x100 metre relay. Starting swimmer Max Mannes put the relay on course with a new personal best of 50.98 seconds. Raphael Stacchiotti and Pit Brandenburger increased the team's chances of setting the record with 51.43 and 50.07 seconds respectively. Ralph Daleiden Ciuferri swam the final stretch in 49.14 seconds, taking the team to a new national record of 3 minutes 21.62 seconds. The team thus improved the old record by 1.47 seconds.
Finishing the 400 metre freestyle race in 4 minutes 3.71 seconds, Pit Brandenburger missed his best time of 3 minutes 56.17 seconds.
Max Mannes demonstrated his top form once again, taking the lead over 50 metre backstroke with a new best time of 26.14 seconds. He missed the national record set by Jean-Francois Schneiders by just under two-hundredths of a second.
On Tuesday, Pit Brandenburger and Ralph Daleiden Ciuferri will compete in the 100 metre freestyle race, with Joao Carneiro making his European Swimming Championships debut in the 200 metre butterfly race.