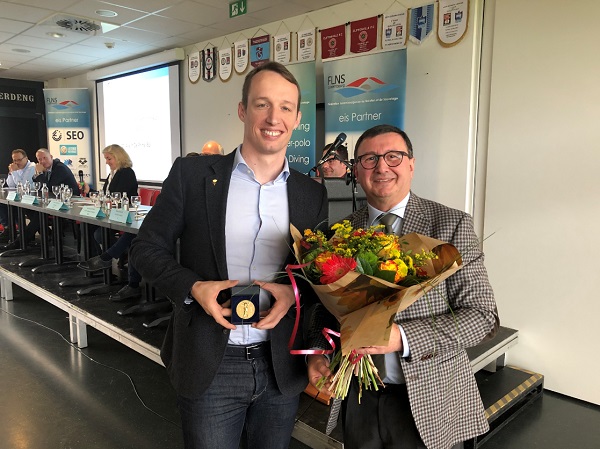 Alwin de Prins with Marco Stacchiotti (FLNS President); Credit: © FLNS
On Saturday, the Luxembourg Swimming Federation (FLNS) held its Annual General Assembly at the Stade Municipal in Differdange; the 36 delegates of the fourteen clubs present attended the meeting and granted discharge to the Board of Directors headed by President Marco Stacchiotti, Secretary General Christiane Meynen and Vice-President of Finance Jean-Louis Beckers.
Following a welcome speech by the president of the Differdange swimming club and jury member Paulo Aguiar, Luxembourg's Minister of Sports, Dan Kersch, delivered a speech on the the government's promotion of sports. Indeed, the legislature for 2018-2023 will see the budget for Luxembourgish sports continue to increase, as well as the strengthening of the fight against doping in sport from 2020 onwards.
In addition, Marie-Paule Hoffmann, Member of the Board of Directors of the Comité Olympique et Sportif Luxembourgeois (CLSO) and President of the Bureau Technique Luxembourgeois, highlighted in her speech the successes of Luxembourgish swimmers in the Games of the Small States of Europe, held in Montenegro: fourteen gold, twelve silver and five bronze medals. As part of its individual funding, COSL supports five Olympic candidates (elite squad) and four other teams.
FLNS President Marco Stacchiotti also highlighted the athletes' achievements in his speech: last season saw two participants compete at the Youth Olympic Games in Buenos Aires, three swimmers participate in the Short Track World Championships in Hangzhou, five athletes successfully represented at the Junior European Championships in Kazan and four swimmers compete at the European Youth Olympic Festival in Baku. One of the season highlights was the World Cup in Gwangju, during which six Luxembourgish athletes competed. Securing 12th place over the 50m freestyle, Julie Meynen celebrated the most successful World Cup result in the history of the swimming federation, whilst Raphael Stacchiotti also made history in qualifying for his fourth Olympic Games over the 200m positions. Similarly, diver Alain Kohl secured 13th place in high-diving.
In his speech, Marco Stacchiotti went on to emphasise the importance the association places on training, for instance the FLNS organised three junior swimmer clinics, three "Kids Coach" trainings and three primary and secondary sports teacher training throughout the year.
Subsequently, the former triathlete Liz May submitted the request to the General Assembly to accept the "Club Européen de Natation à Luxembourg", which was rejected. However, the proposal of the FLNS Board to increase the annual licence fee (for the first time since 2004) was granted.
Finally, Alwin de Prins received the "médaille d'honneur" (medal of honour) for his successful career. The 41 year old former competitive swimmer represented Luxembourg at three Olympic Games (2000, 2004 and 2008), six World Championships and nine European Championships- he finished 14th in the 100m chest position during the 2004 semi-finals.