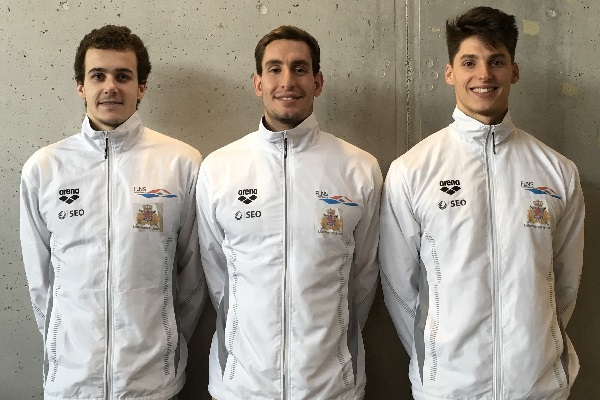 Credit: FLNS
Raphaël Stacchiotti, Pit Brandenburger and Julien Henx will be representing Luxembourg at the 7th CISM Military World Games, taking place from 18-27 October 2019 in Wuhan in China; the swimming competitions will run from 19-23 October.
Organised by the International Military Sports Council (CISM), this year's edition of the multi-sport event brings together more than 10,000 athletes and coaches from over 110 countries. Representing the Luxembourg Swimming Federation (FLNS) on this occasion are Raphaël Stacchiotti, Pit Brandenburger and Julien Henx, three soldiers from the elite sports section of the Luxembourg Army. A total of 238 swimmers from 27 nations will be competing for titles and medals at the Wuhan Aquatic Center.
The level of competition is significantly higher than at last year's Military World Games in Samara, Russia, where Raphaël Stacchiotti won silver in the 200m medley event and Julien Henx won bronze in the 50m butterfly event. This time around, Luxembourg's best chance of reaching the finals may well rest on Raphaël Stacchiotti's performance in the 200m and 400m medley races and Julien Henx's performance in the 50m freestyle and butterfly races.
Julien Henx was already in good shape at the FINA Swimming World Cup in Berlin last weekend when he just narrowly missed his national records in the 50m freestyle (22.86 rather than 22.71 seconds) and 50m butterfly races (23.96 compared to 23.91 seconds). For his part, Pit Brandenburger will be giving his all in the 100m, 200m and 400m freestyle races.
The Luxembourg trio will be competing right at the start of the swimming competitions on Saturday, with Raphaël Stacchiotti taking part in the 100m backstroke, Julien Henx in the 50m freestyle and Pit Brandenburger in the 100m breaststroke events.