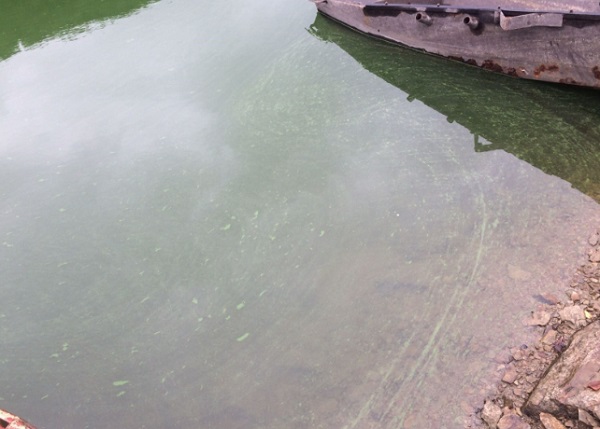 Cyanobacteria in the Rommwiss in 2017;
Luxembourg's Ministry of the Environment, Climate and Sustainable Development and the Administration de la gestion de l'eau (Water Management Administration; AGE) have issued an alert concerning the presence of cyanobacteria, also known as "blue-green algae", in the Haute-Sûre lake.
Following the detection of cyanobacteria at the Rommwiss beach, the AGE carried out water analyses at the six official beaches on the Haute-Sûre lake. These anaylses revealed that these toxic algae have spread to the various beaches. Indeed, the presence of toxic cyanobacteria in high densities, as well as that of toxins that can cause health problems in humans and animals, was detected.
As a result, a ban on swimming and all nautical activities has been imposed with immediate effect for the entire Haute-Sûre lake.
In addition, the AGE has recommended that owners do not allow their dogs or other pets to drink water from the lake and that the public should refrain from consuming fish caught in the lake. Anyone experiencing health problems after swimming in the lake should consult their doctor, mentioning any contact with cyanobacteria.
It should be noted that there is no risk related to the consumption of drinking water from the Haute-Sûre lake as the withdrawal of raw water is at a depth (25m) where the concentration of Cyanobacteria is very low and the treatment system in place effectively removes toxins from cyanobacteria.
As a reminder, the ban on bathing and all nautical activities at the Remerschen ponds and the Weiswampach lake remains in place.