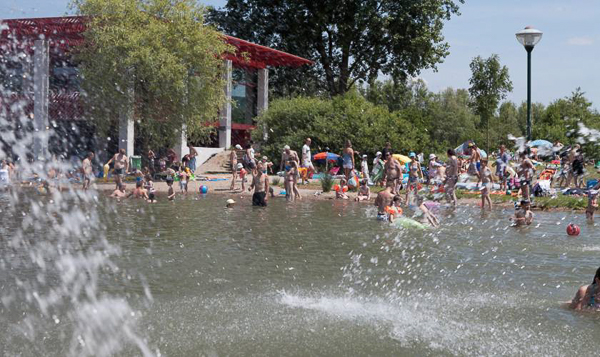 Remerschen ponds; Credit: Fabrizio Maltese
Luxembourg's Ministry of the Environment, Climate and Sustainable Development and the Water Management Administration have issued an alert concerning the presence of cyanobacteria, also known as "blue-green algae", at the Remerschen ponds.
Following the detection of cyanobacteria at the "Rommwiss" beach and the Weiswampach lake recently, the authorities have announced the presence of this blue-green algae at the Remerschen ponds, as well. Indeed, the Luxembourg Institute of Science and Technology (LIST) observed a proliferation of cyanobacteria in these waters in their latest analyses.
The LIST has confirmed the presence of the following species of cyanobacteria: Microcystis. These bacteria can cause health problems in humans and animals following the production of toxins. In fact, a concentration of 10 μg / l of microcystin was measured, thus exceeding the alert threshold of 4 μg / l. Additional analyses are in progress.
In the meantime, a ban on swimming and all nautical activities has been imposed with immediate effect at the Remerschen ponds.
In addition, the Water Management Administration, in consultation with the Health Directorate, has recommended that the public neither consume fish caught in this lake nor allow dogs or other pets drink water from the lake.
The ban on bathing and all nautical activities at Weiswampach lake and at "Rommwiss" beach (Haute-Sûre) remains in force, although bathing is still authorised for the time being at other official bathing beaches located along the Haute-Sûre lake.