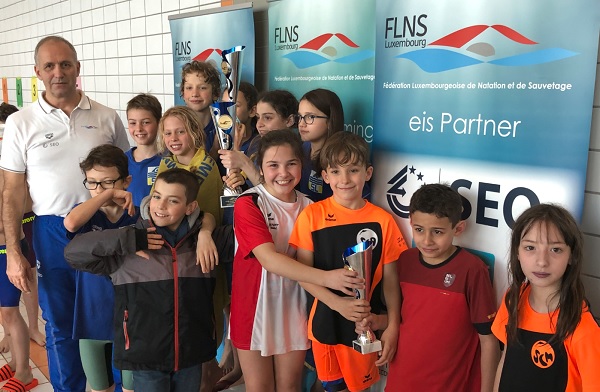 Some of this year's winners; Credit: Luxembourg Swimming Federation FLNS
On Sunday 24 March 2019, 167 young Luxembourgish swimmers took part in this year's Grand Prix de l'Avenir swimming gala in Wiltz.
The Grand Prix is ​​an all-round competition for boys aged 10 to 13 and girls aged 9 to 12. The programme includes four categories for the "Poussins" category (girls born in 2009/2010 and boys born in 2008/2009) and five "Pupilles" categories (girls born in 2007/2008 and boys born in 2006/2007).
Among the youngest girls (2010 category), Leni Leonard from the Swimming Luxembourg (SL) club won first place with 42 points. Second place went to Mira Pavalek, also from the SL with 33 points, just ahead of Emma Barthel from Redange with 32 points. In the 2009 category, Teodora Grujic-Martins from SL came first with 45 points, ahead of fellow club mates Maja Miloanovska (31) and Eva Krombach (26).
In the eleven-year-old girls' category, Amelie Scholer from the SL came top of the podium with 47 points, second place went to Joyce Bleses from Ettelbrück (45) and third to Nina Hric from the SL (35). With four out of five wins, Mengjia Han of the SL scored 57 points in the 12-year-old girls' category, followed by Lina Philippart from the Swimming Club (SC) Monnerech in second place (36) and the latter's club mate Leeloo Reinesch (35).
Among the boys, Inaki Reinesch from the Swimming Club (SC) Déifferdang came first in the 2009 category, with 36 points. Second place went to Stefano Valentini from the Swimming Club Monnerech (34) and third to Deyan Reding from CN Dudelange (28). Pablo Ortiz Bogdanov from the SL took gold in the 2008 category with 48 points, followed by club mate Evan Viguier in second place (31) and Mats Visser from Ettelbrück in third place (28).
Among the 12-year-old boys, Albert Chassard of the CN Dudelange won with 54 points in front of the two SL swimmers Anton Fedoseev (43) and Louis Thill (31).
Nicolas Calmes of the SC Monnerech (54) secured the title in the 2006 category, with Thijmen Rikkert of the SL finishing second (43) and teammate Kevin Peusch (33) taking bronze.
In the mixed relay teams over 4x25 or 4x50 metres, the SL team 1 won the "short squad" (01:16.56); the team was composed of Maja Milanovska, Pablo Ortiz Bogdanov, Teodora Grujic-Martins and Evan Viguier. Second place went to teammates Jules Moog, Eva Krombach, Sophia Constantin and Nicolas Bourg (01:22.88) and third place to the team of the SC Deifferdang (01:28.54) made up of Inaki Reinesch, Maelle Fradet, Anela Prentic and Nizar Mait-Rabbi.
The 4x50 metres race was firmly in the hands of the SL. The first team won in 02:16.30 minutes thanks to Thijmen Rikkert, Linda Krombach, Mengjia Han and Kevin Peusch. Second place went to the quartet Anton Fedoseev, Farida Ahmed, Ionut Alexandru Tuchila and Nina Hric with 02:26.90 minutes, followed by team 3 of SL (02:29.16), made up of Amelie Scholer, Anja Conter, Louis Thill and Mathis Moog.