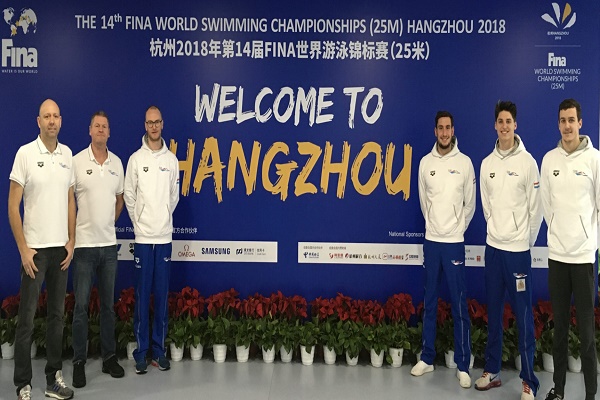 Luxembourg team in Hangzhou; Credit: FLNS
Luxembourg swimmers Julien Henx and Pit Brandenburger have shown impressive performances in the World Swimming Championships in Hangzhou, China.
Last Friday, the fourth day of the World Swimming Championships in Hangzhou, saw Julien Henx place 33rd among 98 swimmers in the 50 metres butterfly race (in 23.63 seconds). However, on the penultimate day of the competition (Saturday), the 100 metre freestyle did not go as planned for Henx who completed the race in 49.48 seconds, below his potential. This has been attributed to a training backlog due to a shoulder injury.
Similarly, Pit Brandenburger improved the national records in the 800 and 1500 metres freestyle races on Saturday. The 23-year-old from Dudelange set a new record in the 800 metre race with a time of 08:07.96 minutes. Despite difficulty breathing from 1000 metres onwards, the elite swimmer was able to keep up the pace and hit in a new record time of 15:25.72 minutes in the 1500 metres race. He described the race as "a perfect end to the World Cup."
The World Cup ended on Sunday 16 December, but with the 21st Euro Meet taking place from 25-27 January 2019, the next highlight in the swimming calendar is just around the corner.
The organisers of the upcoming Euro Meet, held in the Coque in Luxembourg, have announced the first highlight in the 2019 line up: Katinka Hosszu is set to compete. After a break in 2018, the Hungarian top swimmer known as the Iron Lady has decided to start her preparation for the World Championship in Luxembourg. For the 21st edition at the end of January 2019, the Hungarian will probably concentrate on her main events - she is Olympic champion in the 100 metre back and 200 and 400 metre medley races. Last week, the 29-year-old collected four titles at the Swimming Championships in Hangzhou.