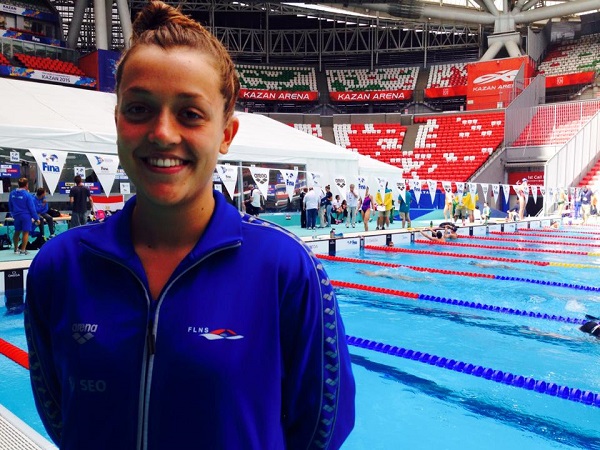 In the current FINA World Swimming championships being held in Kazan, Russia, from 24 July to 9 August 2015, Luxembourg has had a number of representatines participating.
In the Men's 100m Breaststroke heats on Sunday, Laurent Carnol recorded a time of 1:00.82 to be placed 25th in the competition, with the fastest time recorded by Britain's Adam Peaty 58.52 secs. 16 swimmers, of the 77 who started, qualified for the semi-finals. His time was only 6 hundredths of a second outside his best time for that distance, set at the World championships in Barcelona in 2013. He is looking forward to the 200m race, codsidered to be his best distance.
In the Women's 400m Freestyle heats, Katie Ledecky of the US recorded the fastest time of 4:01.73, with Luxembourg's Monique Olivier in 25th place (of 49 competitors) in a time of 4:15.24. This was a new Luxembourg record, beating her old time of 4:16:37 by more than a second. Her reaction was " I´m so happy. That gives me self-confidence for the next races".
In the Men's 400m Freestyle, 23 year-old Raphael Stacchiotti swam 4:01.63, seven seconds outside his best time of 3:57.43. He complained of his arms and legs feeling heavy and could not kick properly due to a foor ligaments injury he has had for a while.
Altogether 2,651 athletes from 190 countries are competign in the FINA World championships which includes high-diving, water polo, synchronised swimming, swimming and open water swimming. For Luxembourg, Laurent Carnol and Raphaël Stacchiotti are competing in their 4th World Championships, Julie Meynen in her second (Barcelona in 2013) and for Julien Henx, Pit Brandenburg and Monique Olivier it is their first time at a long Course Championships wearing the Luxembourg colours.