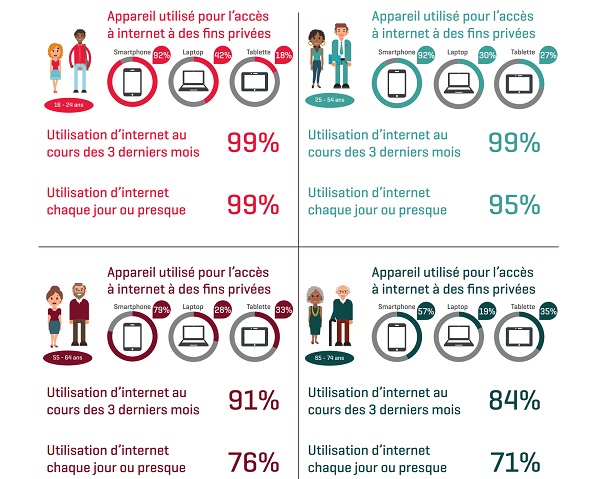 Credit: STATEC
According to STATEC's latest survey, smartphones are the preferred device for accessing the internet across all ages in Luxembourg.
The report found that all young people and 82% of 65 to 74 year olds in Luxembourg have internet access, with just 3% of those aged 16 to 74 not using the web in 2019.
Whilst younger internet users (16-24) log on every day, the 55 to 64 and 65 to 74 age groups counted 76% and 71% of daily users, respectively. Overall, only 11% of people surveyed do not use the internet outside of their home and workplace.
Regarding devices used to access the web for private means, the smartphone was a clear winner among all age groups, although older age groups preferred tablets to laptops: 92% of 16 to 24 and 25 to 54 year olds opted for their smartphone to access the internet, compared to 42% and 30% respectively who used a laptop and 18% and 27% who used a tablet; 79% of 55 to 64 year olds also accessed the web on their smartphones, whilst 28% and 33% used a laptop or tablet respectively; 57% of 65 to 74 year olds chose the smartphone as their preferred device, compared to 19% and 35% who used a laptop or tablet respectively.
On the other hand, online activities varied according to age and gender. For instance, 90% of 16 to 24 year olds often listened to music online, 87% used social networks, and/or instant messengers, 82% sent emails and 69% made calls via the internet. Meanwhile, people aged 65 to 74 mainly used the internet to send emails (77%), follow the news (67%), carry out online banking transactions (60%), use instant messengers (53%) and provide information on goods and services (52%). In the 25 to 64 age group we find the same activities but in a different degree and order. Among those aged 25 to 54, there were still many social network users (71%) but the appeal appears to decrease with age.