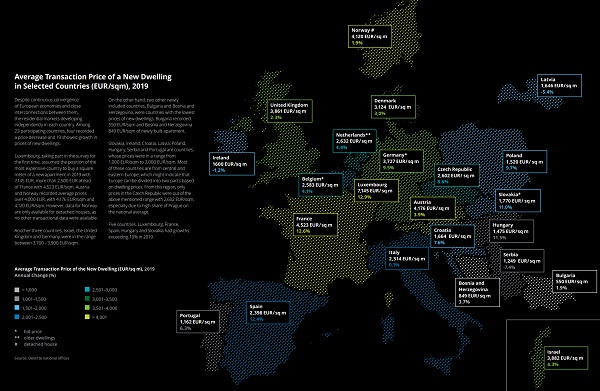 Credit: Deloitte Property Index 2020
The Deloitte Property Index 2020 has ranked Luxembourg as the European country with the highest apartment prices; Luxembourg City also placed first for highest monthly rent.
In the ninth edition of its Property Index, consulting firm Deloitte analysed 23 countries, including Luxembourg, to give an overview of European residential markets over the past year.
In 2019, Luxembourg was named the most expensive country in terms of new apartment prices (€7,145 / m2), whilst its capital was the most expensive city in terms of monthly rent (€30.71 / m2). Luxembourg City was the only city included in the report where rental prices exceeded €30 per square metre, thus bringing it ahead of Paris (€28.30 / m2), inner London (€27.02 / m2), Oslo (€25.80 / m2) and Dublin (€25 / m2).
Overall, Luxembourg was the most expensive country to rent an apartment in 2019, with all three of its cities included in the report (Luxembourg City, Esch-sur-Alzette with €21.80 / m2 and Differdange with €19.96 / m2) placing among the ten most expensive cities.
Regarding transaction prices of new dwellings, Paris was again named the most expensive city in the Property Index, with €12,863 / m2 in 2019. Tel Aviv and Luxembourg City were not far behind, with €9,769 / m2 and €9,565 / m2 respectively.
On the other hand, Luxembourg also ranked highly for development intensity: the Grand Duchy recorded the highest number of initiated dwellings per 1,000 citizens (8.9) which made up for 5,600 started dwellings.
The full report can be downloaded from https://www2.deloitte.com/nl/nl/pages/real-estate/articles/deloitte-property-index-2020.html.