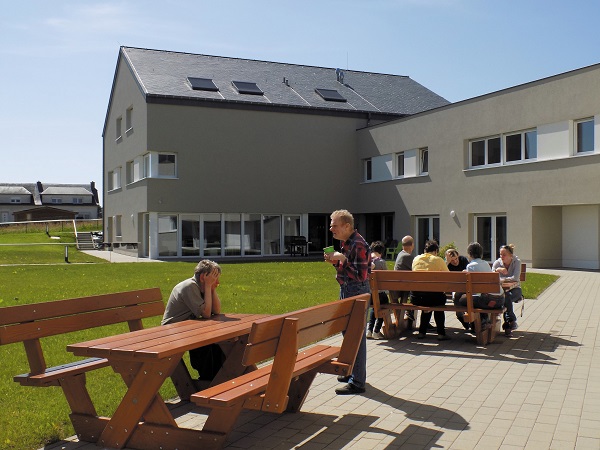 New FAL facility in Rambrouch; Credit: FAL
The Luxembourg Autism Fondation (FAL) has announced that, while it strives to broaden the range of its services and to meet needs not yet covered in Luxembourg, since its soundation in 1996, there are still too many families in Luxembourg who cannot find accommodation for their child with autism.
This is why one of the priorities of the FAL is to continue to develop its hosting services: the foundation will open a new home on its site in Rambrouch in the autumn. As of 5 October 2020, barring any last-minute unforeseen events, this new home will accommodate 6 new residents with autism spectrum disorder (ASD).
The objective of the Rambrouch structure is to provide a living space that is open 365 days a year and welcomes people with autism of different degrees of autonomy and age groups. Priority is given to people with severe disabilities. The services offered are completed by a day centre which offers various workshops.
Nathalie Lehoucq, Director of the foundation, and Corinne Wuidar, Psychoeducational Manager, spoke about the opening of the new residential facility.
Corinne Wuidar explained that there is a long waiting list of families who have applied for a place regarding accommodation. "Most of the time, it is the families who call on our services because they have known (the FAL) for a long time, for example through the diagnostic service or summer camps. We regularly suggest that they make a request because free places are always quickly filled. So it's interesting to be placed on the waiting list. But sometimes it is professionals who suggest the family to find a place to stay. This can be a school or the SCAS (central service for social assistance). In some cases, the Ministry of the Family also calls us to let us know of a family in distress who is in need of a place to stay. But in the end, it's always up to us to decide which family we choose who can take advantage of our free places."
When opening a new home, the Foundation strives to see what the emergency criteria are for each of the potential families to allow the admissions committee to decide which family to whom to offer the place. Nathalie Lehoucq gave some examples of emergency criteria: "The most important criterion is of course whether the person has ASD or not. Afterwards, we examine the urgency of the request: is the person still living with their family or are they already hosted in another institution? Does the family have major problems with their child's behaviour and have they used respite bed services several times? How old are the parents and therefore can they not take care of their child for much longer?"
On the basis of these criteria, 6 people with autism were selected for the new home in Rambrouch.
Choosing who will get one of the available places is never easy, as Corinne reminded. "All the families who applied were not able to benefit from a place in the new living space. We were unable to allocate space for 15 of them, including 6 who would have liked to receive accommodation quickly. This shows that there are still too few residential structures for people with ASD here in Luxembourg compared to the expressed need."
For the first time, the FAL will also welcome minors
New this time: three of the six people are still minors and are in school. The young people will live with others in the home and will visit the CTSA (Centre for Children and Youth with Autism Spectrum Disorder) during the day through the CAPABS service.
"At the start of the project, around 2015, we learned that young Luxembourgers were living in hostels in Germany and Belgium due to the lack of places that could accommodate them in Luxembourg. It was immediately clear to us that we wanted to bring these young adolescents back to their country, to Luxembourg, close to their parents. This wish was a crucial part of our decision to create a home for younger people," said Corinne Wuidar,
But then, why not open a home exclusively for minors? To answer this question, Nathalie Lehoucq once again underlined the importance of the "urgency criterion". As she said, the waiting list also included adults who needed a place to live more urgently than some minors. However, the admissions committee took into consideration that the age group of the six residents is not very large (13 to 28 years old).
When the child is very young, the foundation instead tries to encourage him/her to remain with their family. In this case, the FAL prefers to offer other family support services, such as the respite bed service: "If parents can entrust their child to us for a few days in one of our respite beds, they have the right to do so, to have time to rest, to breathe a little. When they find their child, the relationship is recreated and it becomes positive again. We cannot forget that it is very difficult for families to be separated from their young for the whole week" added Nathalie Lehoucq.
Looking to the future
Opening a new home automatically brings obstacles to overcome. Corinne Wuidar explained that the first obstacle to overcome now is the means of school transport: "If we do not have organised transport, young people cannot go to school. Regarding transportation, people with autism may have behavioural problems. We are currently in the process of clarifying with the Ministry of Transport what is the best solution to put in place to ensure proper school transport."
For Nathalie Lehoucq, there is also another potential problem linked to the adolescent phase of minors: "Minors are in their adolescent phase, which is often a phase of development, including puberty, which can bring additional challenges for our educational teams."
The supervisory team of the new home
At the team level, the FAL had to hire new educators to make sure it had enough staff to cover all the needs of the 6 residents. Corinne Wuidar explained that, in order to ensure that the new home is not only made up of new educators, they have taken care to group the new educators with those who have worked for the FAL for longer. In this way, educators who already have more experience in the field of autism spectrum disorders can help new educators become familiar with the subject. Thanks to the children's day centre and respite beds, the team already has extensive experience in caring for minors.
To close the conversation, Nathalie Lehoucq also wished to emphasise the importance of loyal and generous donors: "If we have to create a new home, funding is always an obstacle for us. However, as the long waiting list shows, there is still a lack of residential structures in Luxembourg. So, more than ever, we still need donors."