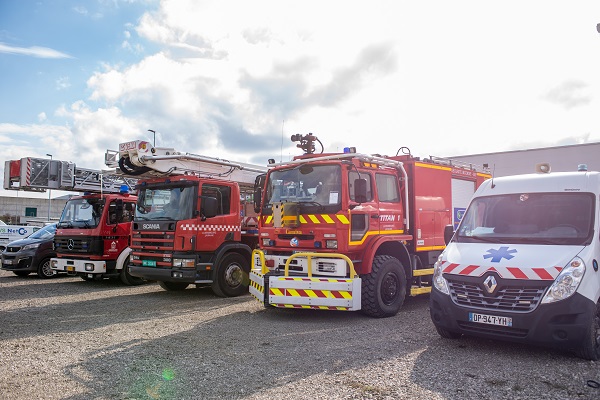 Credit: Julia Yamkova
LUkraine asbl has announced that a second convoy of emergency vehicles departed Luxembourg for Ukraine on Wednesday 1 March 2023.
This convoy includes five fire engines and one ambulance worth a total of €210,000. The municipality of Dudelange donated one of the fire engines, whilst the other vehicles were purchased with donations to LUkraine asbl's "Ukraine is Calling" fundraising campaign. The vehicles are destined for rescue squads of the State Emergency Services of Ukraine in the Kharkiv, Dnipro and Sumy regions.
"We search for these cars all around Europe. We even bought a fire truck [engine] ladder in Norway, which our volunteer Anders Lilieholm gladly agreed to bring to Luxembourg to send to Ukraine today," explained Ievgenii Smoliak, logistic coordinator at LUkraine asbl. "Mostly we buy cars in neighbouring countries: France, Germany and the Netherlands. Ukrainian rescuers help us to understand which particular vehicles are missing and we do our best to find those and send them to the destinations that most need them."
A first convoy of sixteen emergency vehicles (twelve ambulances and four fire engines) arrived in Ukraine from Luxembourg on 23 December 2022. According to LUkraine asbl, these vehicles have already helped Ukrainian emergency workers save civilians from the consequences of Russia's full-scale invasion. Luxembourg's Ministry of Home Affairs had donated eight of the ambulances.
Ukraine is Calling aims to raise €10 million to buy 112 ambulances and fire engines to support Ukraine's emergency services and medical system. LUkraine asbl has signed a memorandum of cooperation with the State Emergency Services of Ukraine and the Ministry of Health of Ukraine. All vehicles received within this campaign's framework are handed over to these institutions. The campaign started in Luxembourg but soon spread to other countries around the world.
Like the previous one, LUkraine asbl's local volunteers and Ukrainian firefighters are delivering this second convoy to Ukraine.
Speaking on behalf of the Ukrainian community, LUkraine asbl expressed its "deepest gratitude to the Luxembourgish government and citizens of Luxembourg for their generous contribution to the [Ukraine is Calling] project and unconditional support in Ukraine's resistance against Russia."