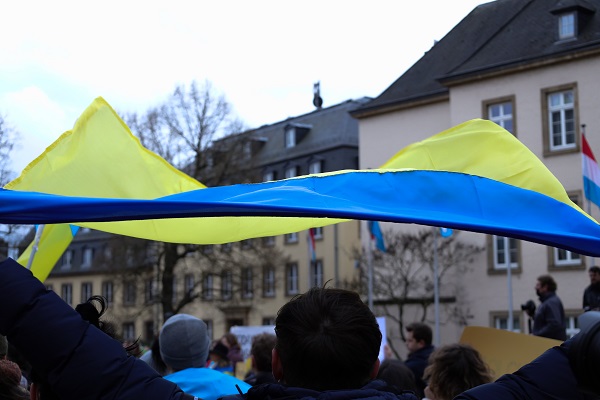 Anti-war protest in Luxembourg City, 24 February 2022; Credit: Ali Sahib
Chronicle.lu recently had the opportunity to catch up with Inna Yaremenko, Vice President of LUkraine asbl, on the non-profit's upcoming activities and its ongoing fundraising campaign, "Ukraine is Calling".
Whilst the LUkraine asbl information centre is located in a former school in Rollingergrund, provided by the City of Luxembourg since March 2022, the non-profit had moved into offices (for language courses and other activities) provided by KPMG in Luxembourg-Kirchberg for five months starting from June 2022. Now, the non-profit plans to reach out to other companies for an office space.
In order to secure a bigger location, as well as to resume the popular language courses for refugees (budget needed to hire teachers), donations are needed. A larger budget would also help LUkraine asbl launch its integration courses, contribute to its psychological support service and introduce sports activities, such as self-defence classes for women. As Inna confirmed: "We are looking for donations" to help materialise these ideas.
Ukraine is Calling
In October 2022, LUkraine asbl launched its Ukraine is Calling fundraising campaign which aims to raise enough money to purchase 112 emergency vehicles for Ukraine - a symbolic figure since 112 is the emergency number in the European Union (EU). In December 2022, the non-profit sent a first convoy of sixteen emergency vehicles (eight of which were donated by Luxembourg's Ministry of Home Affairs) to Ukraine's Ministry of Health and the State Emergency Service of Ukraine. To date, the campaign has raised more than €524,000.
In addition, the European Investment Bank (EIB) donated €200,000 to purchase three armoured ambulances and three generators.
Next month, LUkraine asbl will send a second, smaller convoy of five fire engines - as Inna explained, the first, larger convoy proved challenging in terms of organisation and the non-profit felt that it was better to send the emergency vehicles as soon as possible "because the war does not wait".
The next step is to approach businesses and municipalities to see if they might be willing to finance an emergency vehicle as part of the campaign; the municipality of Dudelange has already agreed to donate one fire engine.
Moreover, as part of the Ukraine is Calling campaign, LUkraine asbl's volunteers brought back two damaged emergency vehicles from Ukraine: an ambulance and a fire engine. These vehicles have already been installed and exhibited in Luxembourg City, Esch-sur-Alzette, Metz and Strasbourg (France). In early February 2023, they will be installed in front of the European Parliament in Brussels (Belgium). The goal is "to remind everyone that the war is not over yet, and civilians continue to die there every day," explained Inna.
Ukraine office
Inna also confirmed that LUkraine asbl plans to open a mission (office) in Ukraine in the coming months. This is expected to make it easier to apply for European funds, directly from Ukraine. The first projects will focus on demining - as Inna explained, about 30% of Ukraine's territory has been mined and this is related to social security and the food crisis - and setting up mobile clinics - Inna noted that a large number of hospitals have been destroyed and thousands of people in Ukraine do not have access to first aid.
One year of war
To mark the one-year anniversary of Russia's invasion of Ukraine, LUkraine asbl is organising a big march on Saturday 25 February 2023 as well as a round table called "Luxembourg-Ukraine. A Year of Resistance" in March 2023. Representatives of various government ministries, MPs and other local organisations are expected to participate in the latter.
Looking further ahead, in April-May 2024, the non-profit plans to organise "Days of Ukrainian Culture in Luxembourg", which will include film screenings, art exhibitions and concerts, among other activities. According to Inna, the aim is "to show European citizens the beauty and diversity of our culture and our traditions." She noted that the non-profit is "also looking for partners and sponsors for this project."