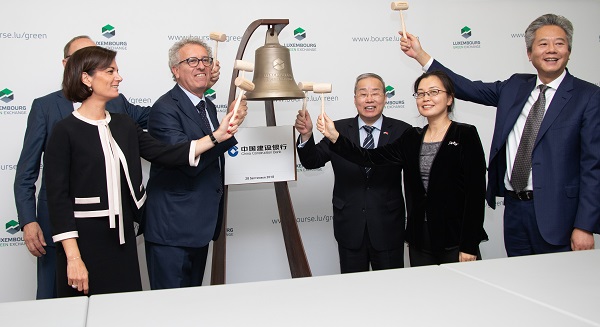 The green bond marked the first issuance dedicated to green projects by the China Construction Bank (CCB); it also marks the first issuance by the CCB out of its newly established Green, Social and Sustainability Bond Framework - the Chinese bank adopted best-in-class practices in structuring its bond framework, in alignment with international and Chinese standards.
The €500 million green bond is now listed on LuxSE's Euro MTF market and displayed on the Luxembourg Green Exchange (LGX). Raised proceeds will finance projects linked to clean transportation, renewable energy and pollution prevention and control. The Climate Bonds Initiative has verified the issuance and has attributed the Climate Bonds Certification Mark.
"I want to commend CCB for aligning their bond with international green bond standards. This issuance will help attract foreign investors to participate in the construction of China's green financial system and promote the development of green industries. I am proud that LuxSE/LGX participates to CCB's strategy of becoming a leading green and socially-responsible bank", commented Robert Scharfe, CEO of LuxSE.
CCB has made the transformation into a "green bank" a priority in its medium and long-term business plan. "Our bank has carefully selected the eligible projects to ensure that they will have a positive impact on the environment. We are committed to promoting the growth of green finance, supporting the low-carbon economy and developing a harmonised society. Tapping the international green capital market gives us a new channel to fund projects with environmental benefits. Displaying our green bond on the world's leading green finance platform comes, therefore, as a natural decision", said Di Huiqing, the Deputy General Manager of CCB's Asset and Liability Management Department.
CCB is the second largest bank in China. In 2017, the bank's green loan balance grew at a rate of 12.74%, significantly higher than the average growth of business loans, providing financing support to over 2,100 clients engaged in green industries.
The Luxembourg Green Exchange displays over 200 green, social and sustainability securities worth more than €100 billion, two years after its launch.