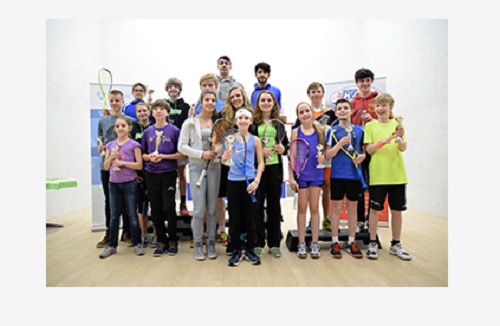 Credit: © All rights reserved Luxembourg Junior Open
The 8th Luxembourg Junior Squash Open was held at Top Squash in Sandweiler from the 13 to 15 of April 2018; the tournament is part of the European and World Junior Squash circuit .
This year this European event has attracted 106 entries from 11 different countries in boys and girls categories from Under 13s to Under 19s. Most excitingly there were 1 World top 30 and 8 Europe Top 20 players competing.
The event is not just a tournament but it also helps in promoting squash and is an opportunity to raise donations to financially support the Luxembourg Squash Federation Junior Program 2018-2019. This Program includes 30 juniors spread over three skill levels; the most advanced of which are being introduced to and supported by the "Sport Lycee".
Many spectators came and supported the 21 Luxembourg players with Miguel Duarte, 6th in the category under 19 years, Joseph Burman, 6th in the category under 13 years and Elisandra Ruiz Kaiser, 5th in the category under 13 years.​