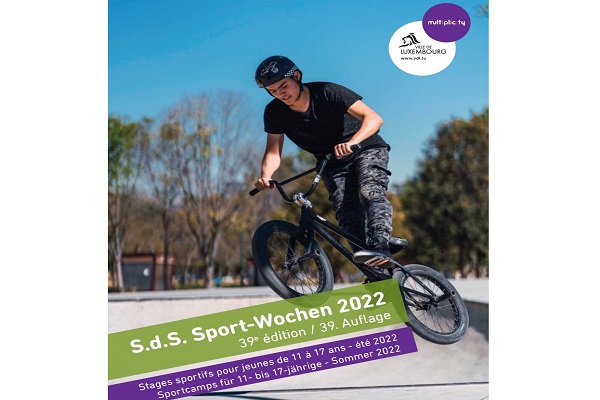 Credit: VdL
The Sports Department of the City of Luxembourg (Ville de Luxembourg - VdL) has announced that this year's "Sport-Wochen" (sports weeks) for 11 to 17 year olds will take place from 18 July to 2 September 2022.
For more than 38 years, the VdL Sports Department has been organising sports weeks every summer for young people aged 11 to 17. The 2022 edition consists of five mini sports weeks for 11 to 12 year olds and thirteen sports weeks for 13 to 17 year olds. The courses last four to seven days (with or without overnight stays) and will take place in Luxembourg and abroad.
The various courses offered will allow young people to discover new sports activities, improve their skills in a particular discipline, make new friends and develop in a friendly atmosphere. Moreover, when developing sports weeks, special attention is paid to health and healthy lifestyles. Thus, the sports weeks form part of the Alderman College's desire to involve young people from all social backgrounds in physical and sporting activities and to contribute to their development and general well-being.
Mini Sports Weeks
The mini sports weeks include sporting activities suitable for children aged 11 to 12, namely mini multisports, mini water multisports, mini sailing (in the Netherlands) and mini maxi-sports.
Sports Weeks
The sporting offer for 13 to 17 year olds includes courses in climbing, mountain biking, horse riding, martial arts, water sports, multisports, wakeboarding, dance arts and "sportsfun on wheels" (e.g. BMX, karting, mountain biking, skateboarding).
In addition to the courses organised in Luxembourg, paricipants can avail of sailing, surfing and kitesurfing in the Netherlands (Brouwersdam) and an outdoor thrill seekers' course (rafting, canyoning, climbing, etc.) in Austria (Ötztal).
The various sports activities are provided by coaches in possession of a state certificate and in collaboration with many sports clubs in Luxembourg. General supervision is guaranteed by certified instructors who have followed theoretical and practical training provided by the VdL Sports Department and which is recognised by Luxembourg's Ministry of Education, Children and Youth.
Registration
Registration is open to all young people aged 11 to 17. The rate for non-residents of Luxembourg City is slightly higher than that for residents of the capital. The programme and the registration form are available at the Bierger-Center, Luxembourg City Town Hall, the Rocade, the Sports Department and on the City of Luxembourg's website: sports.vdl.lu. Registration forms should be returned to the Sports Department via email: mschaal@vdl.lu or ldupont@vdl.lu, via post: Service Sports, 90, boulevard de Kockelscheuer, L-1821 Luxembourg or via fax: 4796-4596.
Health measures
The City of Luxembourg will apply the COVID-19-related health measures in force at the time of the sports weeks. The measures applicable to this period abroad will also be respected and, if necessary, the health measures will have to be adapted as the evolution and constraints of the health crisis in Luxembourg and abroad evolve.