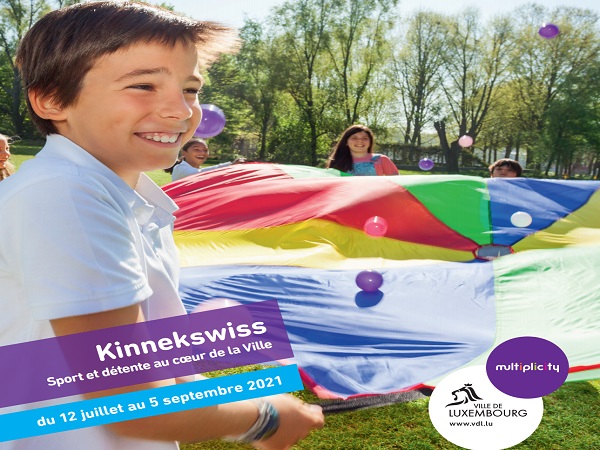 Credit: VdL
The City of Luxembourg has announced that it is organising a range of outdoor sports, leisure and relaxation activities on the Kinnekswiss at the municipal park in the capital.
From Monday 12 July until Sunday 5 September 2021, various activities will take place on the Kinnekswiss daily from 11:30 to 19:30 (except in the event of rain).
These activities are part of the City of Luxembourg's efforts to bring to life this green space located in the heart of the capital during the summer months. The sports department has set up a varied programme, which is accessible to all and designed to promote leisure sports and encourage daily physical activity.
The programme includes sports and activities such as football, rugby, badminton and volleyball, as well as frisbee, field hockey, roundnet, crossminton, football tennis, slacklining and miniature golf, among others.
All the entertainment and sports activities taking place on the Kinnekswiss will be supervised by sports instructors and trained animators.
Prior registration is not required and participation is free, as is the provision of sports equipment. Participation is however at one's own risk and the responsibility for children rests with their parents, guardians or educators. Participants are also required to comply with the health measures and rules in force.
In addition, the "Jump for fun" trampoline park has been set up again in the Merl park. From Friday 16 July to Sunday 12 September 2021, children and adults alike can enjoy twelve trampolines free of change, Monday to Sunday between 12:00 and 20:00 (except in case of rain).
Further information is available at parcs.vdl.lu and sports.vdl.lu.