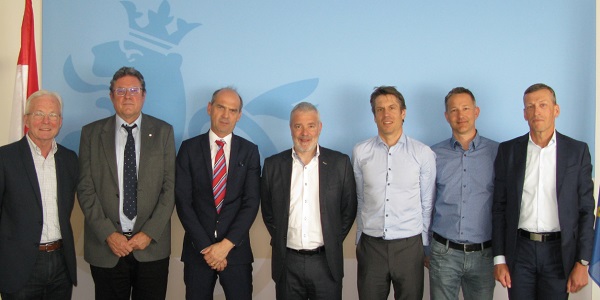 FLTri (L-R): Eugene Kraus; Rob Thillens; Laurent Deville; Dan Kersch, Minister of Sports; Christian Krombach, President of FLTri; Christian Seidel; Marc D'Hooge; Credit: MSP
Both the Luxembourg Triathlon Federation and national football teams have been praised for their sporting efforts recently.
On 27 February 2019, Luxembourg Sports Minister Dan Kersch welcomed delegations from the Luxembourg Triathlon Federation (FLTri) and the Luxembourg Football Federation (FLF) to the National Sports Institute .
The FLTri representatives presented their activities whilst focusing on the various problems encountered in the accomplishment of their multiple tasks. Minister Dan Kersch appreciated the work of the Luxembourg Triathlon Federation, including several top athletes from around the world for possible participation in the upcoming Tokyo 2020 Olympic Games. He also assured FLTri officials of the support of the Ministry of Sports as part of their various activities.
Led by President Paul Philipp, FLF representatives and the Minister of Sports had exchanged views on a number of current issues in the world of football, starting with the outstanding performances of both the national team in the League of Nations and the World Cup, as well as Luxembourg teams involved in the various European competitions. Minister Dan Kersch praised what he considered to be the excellent grassroots work done at the federal level and within the clubs this season with a record 661 youth teams registered in the 2018/2019 National Championship. For their part, the FLF congratulated the Ministry of Sports for the introduction of the quality+subsidy contribution since 2017. The award allows clubs to provide quality coaching to the youth teams.
The meeting also saw discussions of the new national stadium, access to sports centres, especially for new young players during the summer, the constraints imposed by UEFA in this area, sports leave and youth leave for supervising staff.