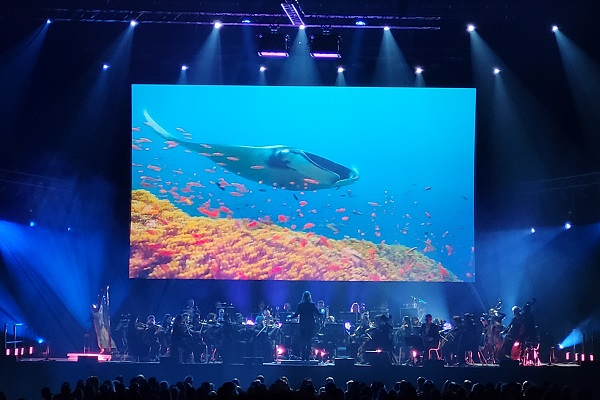 "Our Planet Live in Concert" at D'Coque; Credit: Jazmin Campbell / Chronicle.lu
On Saturday evening, about 3,000 people flocked to D'Coque – Centre National Sportif et Culturel in Luxembourg-Kirchberg to attend the "Our Planet Live in Concert" event.
This live arena experience featured highlights from Netflix's Our Planet documentary series, shown on a large screen, hosted by the composer of the original soundtrack, Steven Price, and accompanied by the Flanders Symphony Orchestra, with on-screen narration by English broadcaster, biologist, natural historian and author Sir David Attenborough.
This two-hour immersive light and sound show took spectators on a fascinating, heartwarming and at times heartbreaking journey across Planet Earth, from its forests and grasslands to its deserts, the high seas and the polar regions.
In addition to being a celebration of life on Earth, "Our Planet Live in Concert" is a call to action, forcing spectators to reflect on the negative ways in which humans have impacted and continue to impact the environment and emphasising the importance of working with rather than against nature to reverse some of the damage done.
Reiterating the ever-important message of phasing out fossil fuels and opting for renewable energy sources, Sir David Attenborough recalls that there is "another path" than the damaging one on which humans find themselves currently. It thus ends with a message of hope: if we act now, we can make a positive change.
Impressive visual and sound effects, accompanied by a 44-piece orchestra, managed to bring this successful documentary series to life, although depending on where one was seated in the arena, noise from the bar could distract from the show at times.
The show also included a video clip dedicated to the series' "unsung heroes" (as Steven Price called them), i.e. the film crew.
"Our Planet Live in Concert" was supposed to tour international arenas back in 2020 but had to be postponed to 2022 due to the COVID-19 pandemic – fortunately, or rather unfortunately from the point of view of the planet's health (climate change, etc.), its message remains as relevant today as it was when Our Planet first hit Netflix users' screens in April 2019.