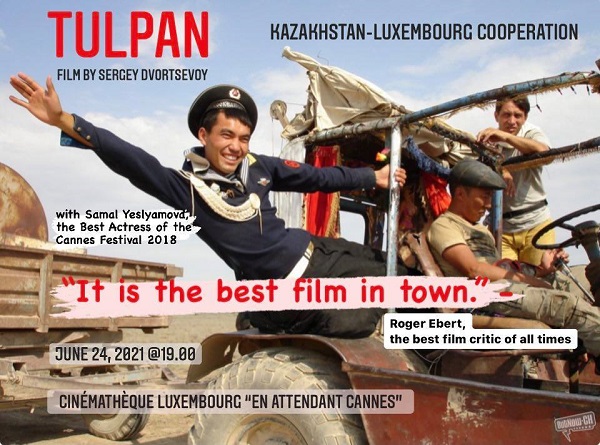 The Kazakhstan-Luxembourg Cooperation asbl has announced that it is holding a screening of Kazakh film "Tulpan" on Thursday 24 June 2021 at 19:00 at Cinémathèque.
Tulpan is a 2008 drama film directed by Sergey Dvortsevoy. The film won the "Prix Un Certain Regard" at the Cannes Film Festival 2008. The main female character is played by Kazakh actress Samal Yeslyamova, who won the prize for best actress at Cannes Film Festival 2018 with Sergey Dvortsevoy's second film, "Ayka".
The late American film critic Roger Ebert wrote about Tulpan: "I swear to you that if you live in a place where this film is playing, it is the best film in town. You'll enjoy it, not soon forget it... there has to come a time in everyone's life when they see a deadpan comedy about the yurt dwellers of Kazakhstan".
Synopsis: There are not too many marriageable girls left on the Kazakh steppe, so when Asa returns from his naval service he is determined to win Tulpan for his wife. He brandishes gifts and regales her stony parents with octopus anecdotes. Unfortunately, Tulpan rejects him: his ears are too big...
Tulpan will be screened next month at Cinémathèque, as part of the cinema's "En attendant Cannes" (waiting for Cannes) programme, in the original languages (Kazakh and Russian) with English subtitles. The film is 100 minutes long.
Tickets can be purchased online via
www.luxembourg-ticket.lu
or in person at Cinémathèque (17 Place du Théâtre, L-2613 Luxembourg), half an hour before the screening starts.