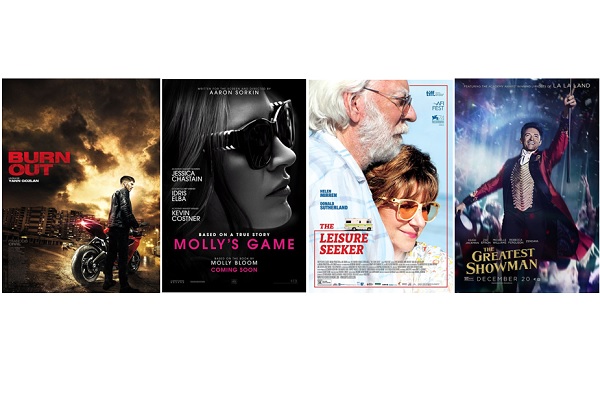 From this Wednesday 3 January 2018, Kinepolis Luxembourg will be showing the following film at its cinemas in Luxembourg, including Kinepolis Kircherg, Kinepolis Belval and Ciné Utopia.
- Molly's Game (biopic, drama), directed by Aaron Sorkin and starring Jessica Chastain, Idris Elba, Kevin Costner, Julia Roberts. Synopsis: The true story of Molly Bloom, an Olympic-class skier who ran the world's most exclusive high-stakes poker game and became an FBI target. At Ciné Utopia, Kinepolis Kircherg
- The Leisure Seeker, directed by Paolo Virzì and starring Donald Sutherland, Helen Mirren, Kirsty Mitchell. Snopsis: A runaway couple go on an unforgettable journey in the faithful old RV they call The Leisure Seeker, traveling from Boston to The Ernest Hemingway Home in Key West. They recapture their passion for life and their love for each other on a road trip that provides revelation and surprise right up to the very end. At Ciné Utopia.
- Burn Out (Action, Thriller), directed by Yann Gozlan and starring François Civil, Manon Azem, Olivier Rabourdin. Synopsis: Head burned, addicted to thrills, Tony lives for one thing: become a professional motorcycle super-bike driver. Until the day he discovers that his son's mother is linked to the gypsy underworld. The only way out of this gear: put his talents at the service of mobsters. Circuit driver during the day, go-faster at night, Tony is plunged into an infernal spiral that leads him to the brink of rupture. At Kinepolis Kircherg
- The Greatest Showman (drama, music), directed by Michael Gracey and starring Hugh Jackman, Michelle Williams, Zac Efron. Synopsis: Inspired by the imagination of P.T. Barnum, The Greatest Showman is an original musical that celebrates the birth of show business and tells of a visionary who rose from nothing to create a spectacle that became a worldwide sensation. At Kinepolis Kircherg, Kinepolis Belval
Next week, i.e. from Wednesday 10 January 2018, the following films are scheduled for release:
- The Darkest Hour (Action, Adventure, Horror), directed by Chris Gorak and starring Emile Hirsch, Olivia Thirlby, Max Minghella. Synopsis: The American software designers Sean and Ben travel to Moscow to sell their software to investors. However, their Swedish partner Skyler pulls a fast one on Sean and Ben, and they are out of the business. They go to a nightclub, where they meet American Natalie and Australian Anne and they flirt with the girls and see Skyler in the club. Out of the blue, the population is surprised by lights, which they mistake for natural phenomena. But soon, they learn that the lights are aliens invading Earth and using power supply to annihilate mankind. Sean, Ben, Natalie, Anne and Skyler hide in the kitchen and when they leave the place, they seek out survivors on the street. Are they the last people on Earth? Set for Ciné Utopia
- Insidious 4, The Last Key (Horror, Thriller), directed by Adam Robitel and starring Lin Shaye, Leigh Whannell, Angus Sampson. Synopsis: Parapsychologist Dr. Elise Rainier faces her most fearsome and personal haunting yet - in her own family home. Set for Kinepolis Kircherg, Kinepolis Belval
- Three Billboards Outside Ebbing, Missouri (comedy, crime, drama), directed by Martin McDonagh and starring Frances McDormand, Woody Harrelson, Sam Rockwell. Synopsis: A darkly comic drama from Academy Award nominee Martin McDonagh (In Bruges). After months have passed without a culprit in her daughter's murder case, Mildred Hayes makes a bold move, painting three signs leading into her town with a controversial message directed at William Willoughby, the town's revered chief of police. When his second-in-command Officer Dixon, an immature mother's boy with a penchant for violence, gets involved, the battle between Mildred and Ebbing's law enforcement is only exacerbated. Set for Kinepolis Kircherg