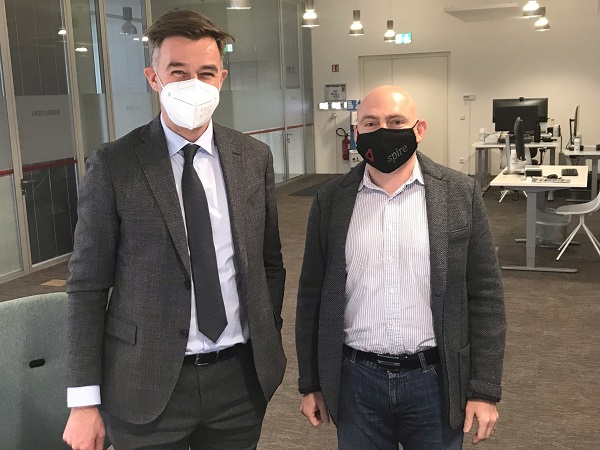 L-R: Franz Fayot, Luxembourg's Minister of the Economy; Peter Platzer, CEO of Spire Global; Credit: MECO
On Tuesday 6 April 2021, Luxembourg's Minister of the Economy, Franz Fayot, visited the premises of Spire Global Luxembourg, established in Luxembourg City since 2017 as the European headquarters and subsidiary of Spire Global.
In 2017, the Spire group chose to set up in the Grand Duchy because of local expertise in the space sector and an environment conducive to the development of innovative and technological space activities with high added value. Spire Global Luxembourg carries out engineering, infrastructure design, low Earth orbit satellite operations, data analysis and business development activities from its site in Luxembourg. The Spire Global group is currently preparing its initial public offering (IPO) in New York which should be set up in the coming months.
Spire Global's reputation for data is rooted in its constellation of 100 nano-satellites manufactured and operated by the company. Active in the space data industry, Spire Global is a world-class data collection and analysis company that uses proprietary satellite technology to forecast weather conditions and track the movements of ships and planes.
The company and its activities are thus fully in line with both the strategy for the economic development of the national space sector and the strategy of the Ministry of the Economy to develop in Luxembourg an economy based on data analysis and processing. Founded in 2012 in California and with offices in Singapore and Glasgow, Spire currently employs 250 people at its six sites, including 53 people in Luxembourg.
During his visit, Minister Franz Fayot stated: "The establishment and development of Spire in Luxembourg has enriched the spatial data sector in Luxembourg. We continue to actively support such companies in their innovative activities with a view to further diversifying the Luxembourg space ecosystem and maintaining our leading position in Europe in this sector".
Spire Global Luxembourg and the Ministry of the Economy as well as the Luxembourg Space Agency (LSA) have undertaken to continue their close collaboration aimed at the continued development of the company in Luxembourg. The company is already included in the investment portfolio of the Luxembourg Future Fund and benefits from a framework contract from the European Space Agency (ESA) for the development of new value-added services.