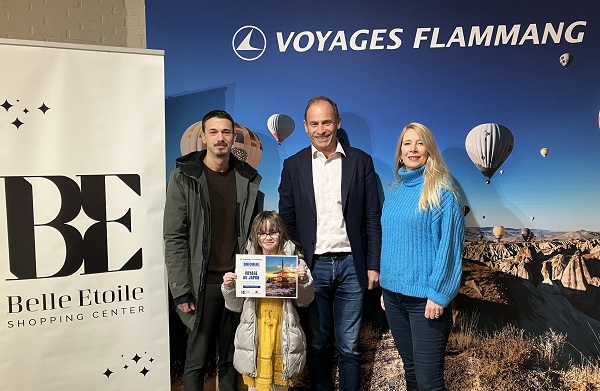 Kevin Krier receiving his Japan travel voucher;
From 25 January to 4 February 2023, La Belle Etoile shopping centre organised an exceptional exhibition on Japan in collaboration with many exhibitors including the Japanese Embassy in Luxembourg.
Thanks to many typical stands, visitors immersed themselves in this magnificent country by discovering crafts, tourism and gastronomy.
On the same occasion, a competition was offered to visitors in partnership with Voyages Flammang, Travel sensations and KLM Airlines. The draw designated Mr. Kevin KRIER as the lucky winner of the contest. He won a trip to Japan worth €6,000.
The award ceremony took place in the presence of the winner Kevin Krier and his daughter, Manu Konsbruck (director of the Belle Etoile) and Arlette Heck (manager of the Voyages Flammang agency at the Belle Etoile).