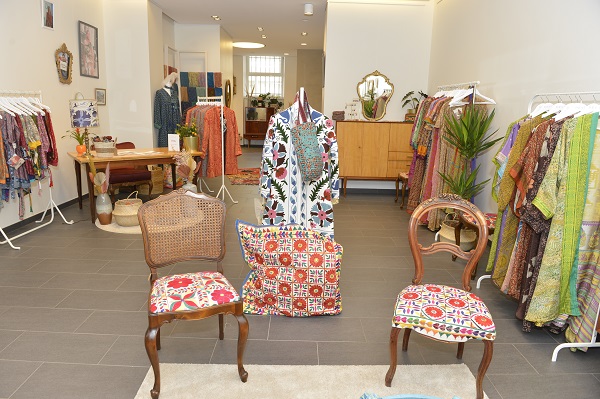 Credit: VdL / Charles Soubry
The City of Luxembourg has announced the opening of two new pop-up stores in Luxembourg-ville: Bizoo Bizoo and Devï.
On Wednesday 5 May 2021, the Mayor of the City of Luxembourg, Lydie Polfer, and alderman Patrick Goldschmidt inaugurated two new pop-up stores, located on Rue Philippe II, in the presence of the sales managers. Following the launch of the call for applications in January 2021 and the evaluation of some 70 applications, the City of Luxembourg selected Bizoo Bizoo and Devï to occupy these commercial spaces for a period of six months. Both projects offer an eco-responsible fashion concept.
Bizoo Bizoo, located at 38 Rue Philippe II, is a small boutique focused on young parents. The store offers a collection of clothes, accessories and toys for toddlers from birth to the age of six, as well as ready-to-wear fashion for young mothers. The store, which already has an online presence, pays particular attention to the origin of the brands offered, favouring products made in Europe and designed by local designers. Further information is available at bizoobizoo.lu.
Devï, located at 40 Rue Philippe II, is a fashion brand offering clothes and accessories ethically made from vintage fabrics in India. To do this, the young entrepreneur has joined forces with the Saheli Women non-profit association, which offers disadvantaged women in rural India work in textile production, in turn allowing them to live independently. All products offered are produced from 100% recycled fabrics and carefully selected by hand. The brand includes tops and kimonos, dresses, skirts and coats as well as various fabric accessories. Further information is available at devi-clothing.com.
The two pop-up shops on Rue Philippe II will remain open until August 2021.
Next call for applications
As part of the pop-up stores project, aimed at promoting entrepreneurship and contributing to the creation of a diversified commercial offer in the city centre, the City of Luxembourg will launch the next call for applications in July 2021. Creators, artists, traders or startups interested in renting one of the two sales and exhibition spaces will be able to submit their application via the form available online at popup.vdl.lu.
Proposals must be in the field of ​​clothing, accessories and jewellery, household equipment, services and leisure, care and beauty, art, fashion and photography or packaged dried foods. The premises have an area of ​​approximately 45 m2.
The minimum rental period is one month and the maximum period is six months; an extension of up to three months is possible depending on the availability of the space. Monthly rent (excluding bills) varies between €650 and €2,250 depending on the specific situation of the entrepreneur or merchant. Rent will vary for large national or international subsidiaries that already have several establishments, but wish to set up in a pop-up store for the launch of a new product.