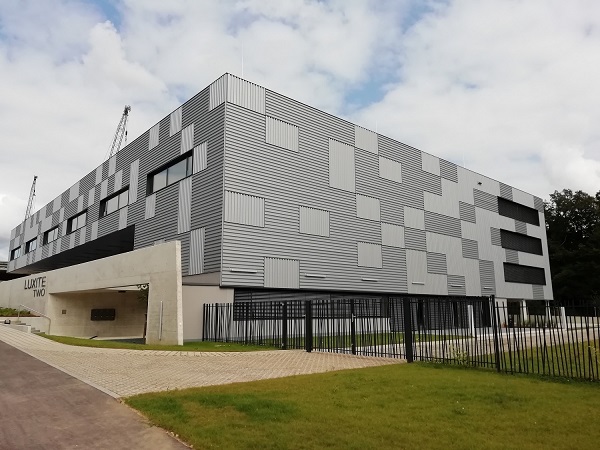 Kleos' new Luxembourg HQ; Credit: Kleos Space S.A.
Kleos Space S.A., a space-powered Radio Frequency (RF) Reconnaissance data-as-a-service (DaaS) company, has announced the expansion of its Luxembourg headquarters.
Kleos is investing for future growth by moving its Luxembourg headquarters to a new bespoke facility to incorporate the company's key functions under the one roof from 1 November 2021.
Located in the newly-built ParcLuxite Business Park in Kockelscheuer, Kleos' new headquarters will be home to the company's engineering and operations facilities, housing environmental test chambers and a dedicated clean room space for the assembly, integration and test of sensitive space hardware as well as its mission control centre. It enables Kleos to scale its global geolocation DaaS and further support its additional engineering teams in the United Kingdom and the United States.
ParcLuxite is a 65-hectare complex dedicated to innovation and high-tech companies on the historical site of the Poudrerie de Luxembourg. It is considered Luxembourg's equivalent of a mini Silicon Valley.
Heribert Kraemer, COO of Kleos, commented: "Our new Luxite facility will enable us to be immersed in a tech environment. It will provide Kleos with the right framework to foster innovation and the capacity to support our growing operations. The office will host the mission operations team, global finance, and communications. As we continue to build our constellation and commercialise our data products, we are also increasing our team to support long-term growth. Our newly-built office will provide a great working environment for the team to ensure we continue to meet the needs of our customers".
Kleos' satellites detect and geolocate radio frequency signals to improve the detection of illegal and hidden activity such as piracy, drug and people smuggling, illegal fishing and border challenges. Its independent geolocation data complements existing datasets and enhances the intelligence, surveillance and reconnaissance (ISR) capabilities of governments and commercial entities.
Kleos is rapidly building its satellite constellation and currently has eight satellites in space, flown in clusters of four in close formation, with a third cluster in build for a launch in the coming months onboard a SpaceX Falcon 9.
Andy Bowyer, CEO of Kleos, added: "It's an exciting period for Kleos as we transition from an R&D company into a commercial provider of geolocation intelligence data. Our new facility will support our constellation growth, enhancing our global coverage and providing our customers with access to specific areas of interest and multiple datasets. Our data is already being delivered to early adopter customers and we are currently in discussion with a number of potential European-based subscribers".