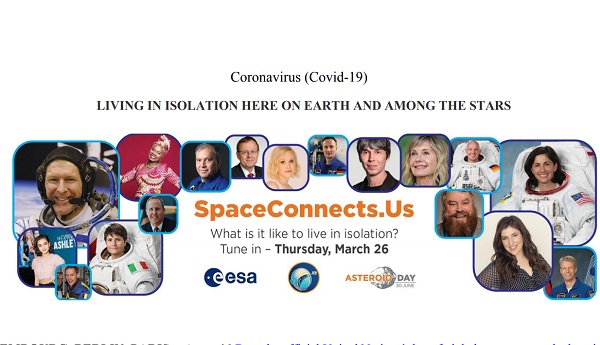 Major players of Luxembourg's space, communications and broadcasting industry have joined forces to support people around the world in the current COVID-19 (coronavirus) crisis and help them cope with self-isolation and quarantine.
Luxembourg companies and institutions have announced their support for SpaceConnectsUs, a global online forum for astronauts, scientists and celebrities to talk about living in confinement and self-isolation and coping with the challenges of the coronavirus crisis.
Asteroid Day, the official United Nations' (UN) day of global awareness and education about asteroids, and the European Space Agency (ESA) are setting up #SpaceConnectsUs, a virtual town hall meeting with astronauts, scientists and celebrities to talk about life in confinement and isolation, sending a message of hope, trust in science and mutual encouragement for everyone currently faced with the challenges of the coronaviurs crisis.
#SpaceConnectsUs offers remote sessions with astronauts and guests from all over the world who speak to children, young adults and their families and friends about their experience and techniques in confined places, their trust in science and the sources of their inspiration. The programme is non-commercial and 100% for free and digital.
The programme will be available in five languages (English, French, German, Italian and Dutch) on https://asteroidday.org/spaceconnectsus/ and www.esa.int today, Thursday 26 March 2020, from 16:00 to 21:00 (Central European Time). The English-language session is scheduled for 20:00 to 21:00 (CET). Broadcasters and direct-to-home satellite users can pick it up from the ASTRA 1M satellite with the technical details: Service Name: SpaceConnectsUs -- Service ID: 4410 -- Transponder: 1.028 -- Satellite: ASTRA 1M Wide Beam -- Orbital Post:19.2 East -- Downlink Frequency: 11626.500 MHz -- Polarization: Vertical -- Modulation: DVB-S QPSK -- FEC: 5/6 -- SR:22.000MBaud.
Asteroid Day is set up by the Luxembourg-based global Asteroid Foundation, with the support of the Grand Duchy and the Luxembourg Space Agency (LSA). Broadcasting Center Europe and ENEX, both part of the RTL Group, will support the production of the streaming before handing it to SES, which will broadcast it live in High Definition (HD) via an ASTRA satellite across Europe. The development of the digital content of the programme is supported by FilmsUnited and the international communication campaign by waveL communications.