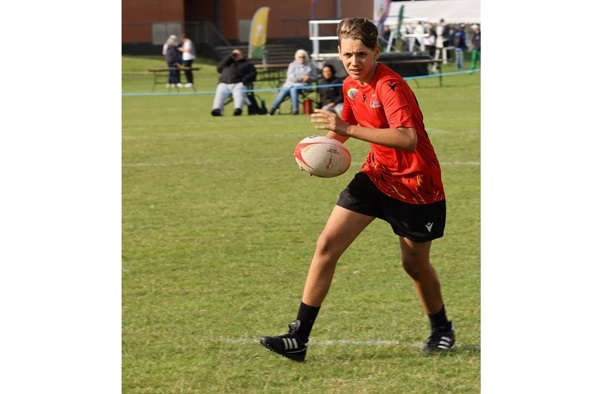 RCL player Luis Fernando Garcia Jacinto playing for Belgium Mixed U15; Credit: RCL
Rugby Club Luxembourg (RCL) has reported that two of its junior touch rugby Luxembourg participated in the Atlantic Cup in Nottingham (UK) at the end of July.
Alessia Hancock and Luis Fernando Garcia Jacinto set their course to Nottingham on 20 July 2023 to participate in the Atlantic Cup in the Under 15 mixed Belgian team. Here they played a competitive international tournament against big nations such as England, France, Wales, Ireland, Scotland, the Cayman Islands, China, South Africa and the United States.
As Alessia Hancock from St George's International School summarised, Day 1 (20 July) saw a significant victory for Alessia and Luis against Cayman Islands beating them 13-3. Day 2 (21 July) proved challenging for them both, as they lost to Wales 3-9 and to Ireland 1-12, but managed to draw with USA 8-8. Day 3 (22 July) saw another tricky two losses for Belgium 2-9 against France and 2-13 against England, although they did not give up and went on to win 11-2 against China. The last day (23 July), playing for 5th/6th place, they lost 4-8 to USA, ultimately finishing 6th out of eight nations.
Alessia noted that this was "a great opportunity" overall, with the players having had "so much fun" during this competitive international tournament. RCL thanked its supporters and their cookie selling customers who made it possible for Alessia and Luis to raise money for their kit and to be able to participate in the Atlantic Cup.
Touch rugby is open for children at the Boy Konen sports field in Cessange every Saturday from 10:00 to 12:00 and for adults every Tuesday from 19:30 to 21:30.Touch Luxembourg is the national body responsible for the sport of Touch rugby in Luxembourg and is affiliated to the Federation of International Touch (FIT) and a member of the Luxembourg Field Sports Federation and COSL.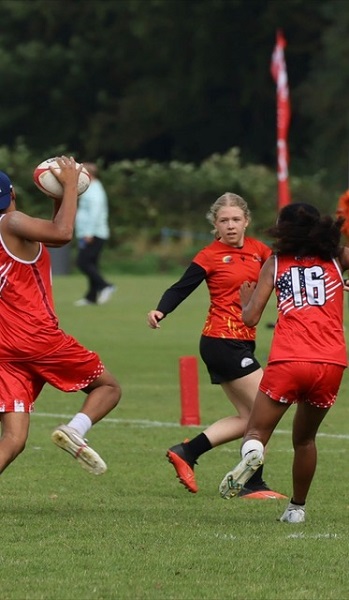 RCL player Alessia Hancock in action against USA (Credit: RCL)