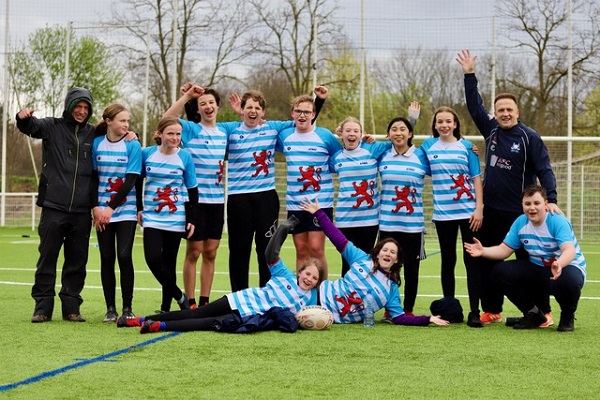 RCL Mixed U15s at the recent Tri-Nations Tournament in Strasbourg; Credit: RCL
Rugby Club Luxembourg (RCL) Junior Touch recently competed in their first international tournament: the Tri-Nations Tournament in Strasbourg, France.
During the weekend of 25 to 26 March 2023, mixed U15, U12 and U9 teams travelled to Strasbourg to play in the Tri-Nations Tournament alongside teams from France and Switzerland.
"By coming to Strasbourg, our 23 players were able to experience competing against other teams their own age," Nick Frank, RCL Junior Touch Coach and President of Touch Luxembourg - the Luxembourg National Touch Association (part of the Luxembourg Field Sports Federation), told Chronicle.lu. "As coaches we were so proud of how they really pulled together as a team, improved through the tournament and above all played with a real sense of fun."
The U15 won one game, drew one and lost one, coming 2nd in the pool. The U12 lost all three "very narrowly" and the U9's "just had a great time", confirmed Nick Frank, who added that "the main objective was more enjoyment than the scores".
He noted that this was an important tournament for Junior touch as it represented a rare opportunity for the Juniors to play against other clubs. The next nearest club is in Belgium, who they will be playing in May 2023. He noted that, amid the "increasing concerns" of parents about contact rugby, interest in Touch is "growing rapidly" in Europe. He described RCL as the leader in developing Touch in Luxembourg "as a way of growing their playing community".
The "very successful" RCL mixed social corporate league will return in May 2023 for ten weeks, bringing together 120 players aged twelve to 60 to play Social Touch "in a safe, friendly environment".
Nick Frank particularly highlighted the strong representation of girls, fourteen of whom played across all the teams at the recent Tri-Nations Tournament.
Junior Touch is a section of Rugby Club Luxembourg and runs trainings on Saturday mornings at Stade Boy Konen in Luxembourg-Cessange for girls and boys aged eight to sixteen. For more information, send an email to info@rcl.lu.