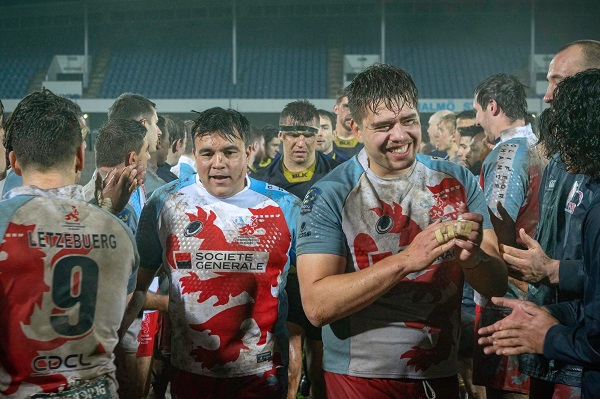 Eugene Mark Gillespie and Eugene Louis Gillespie; Credit: Serge Feltes
Rugby Club Luxembourg (RCL) has announced that Eugene Mark Gillespie and Eugene Louis Gillespie are making club history by becoming the first father and son duo to appear in the same Bundesliga match together against Frankfurt 1880 on Saturday 24 September 2022 at Stade Boy Konen in Cessange.
Eugene Louis has been playing rugby with RCL since the age of six, together with his younger brother, Josh, who is a Senior U18 this season and will join his older brother and father from next year, for the 2023 Senior Pre-Season.
The senior Gillespie has been coaching the juniors, including both sons, all through the Juniors and Colts where he jointly coaches the U18's this season as well. He was selected for the national Luxembourg team in 2019 against Sweden, which they won.
"I really enjoy 'growing our game' of rugby here in Luxembourg and at RCL. It has been a massive part of my life and of course, not only playing alongside with Eugene Louis (and later Josh in 2023) but also the other upcoming former Juniors and Colts whom I have had the privilege of coaching over the years, who now fill the ranks and Senior Squad of RCL", Eugene Mark commented. "Rugby teaches us life skills, resilience, discipline, as well as providing us with lifelong friendships and - most importantly in this day and age - a positive mental mindset to help us cope and navigate our way through this ever-changing world we live in. The fitness and endorphins are a big plus, too!"
Eugene Mark is playing front row: tighthead prop (3), loosehead prop (1) and can also cover the Hooker (2) position; Eugene Louis will provide cover in the back line and wing forward positions.
In fact, RCL is hosting three matches this Saturday: the XV 2. Bundesliga match against Frankfurt 1880 at 15:00, preceded by two Belgian Rugby League matches, namely RC Luxembourg U14 against ASUB Waterloo Rugby U14 at 12:00 and RC Luxembourg U16 against Royal Kituro U16 at 13:30.
The matches are open to the public and food and drinks will be available. Alternatively, members of the public can watch the matches via the following streaming links:
- Match at 12:00: https://play.spiideo.com/games/242981a0-1035-43ec-9c74-3f98dc82d8f8
- Match at 13:30: https://play.spiideo.com/games/01b9ea91-a614-4678-a589-13facb61fd73
- Match at 15:00: https://play.spiideo.com/games/165f5f75-654e-49b2-9614-b2462bb218af