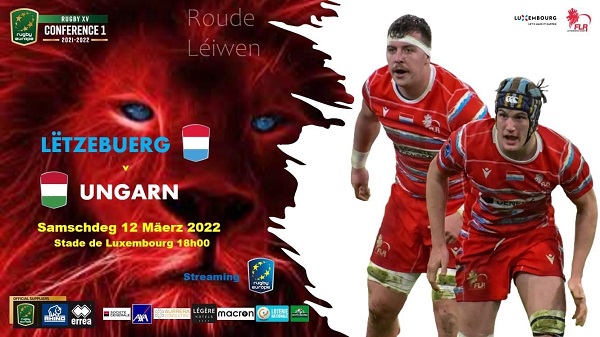 Luxembourg's national men's rugby team will play Hungary at the Stade de Luxembourg on Saturday 12 March 2022 at 18:00.
The match is being played within the Conference 1 North of Rugby Europe which comprises the Czech Republic, Hungary, Latvia, Luxembourg and Sweden; Luxembourg currently sit in 4th place in the 5-team division having lost their first two matches. Hungary (played one) and Latvia (played none) are also yet to score points.
Tickets will be on sale soon at https://www.stadedeluxembourg.lu/en/agenda/luxembourg-hungary
In their two previous matches in this 2021-22 competition, Luxembourg lost at home to the Czech Republic 12-39, and away to Sweden 51-5.
Luxembourg's next match after playing at home to Hungary is away to Latvia on Saturday 2 April 2022.