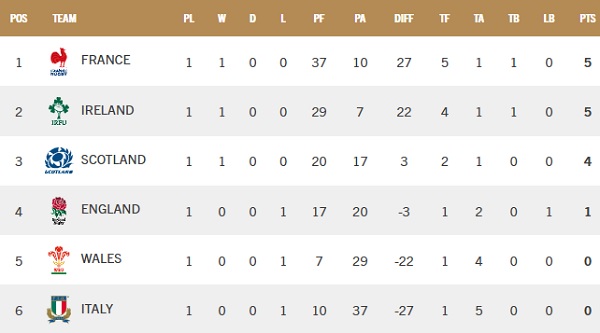 Credit: Six Nations Rugby
The first weekend of the 2022 Six Nations rugby tournament saw Ireland overwhelm a disappointing Wales side, France achieve an expected win over Italy and Scotland retain the Calcutta Cup by pipping England in Edinburgh in a thrilling game.
In the weekend's first match, Ireland scored four tries - all by backs - to record a 29-7 victory over Wales and therefore securing an opening bonus-point win. It could, and arguably should, have been a higher score as Ireland wasted some scoring opportunities (not least Jonny Sexton missing two kicks at goal due to the swirling wind) and Wales were lucky to get an opportunistic interception late in the game for a seven-pointer which they barely deserved. The wind and rain in Dublin ensured that this was never a great spectacle to watch, but Ireland's forwards made the hard yards as their backs did spread the ball wide at times. Ireland were unpredictable with everyone a ball-carrier and potential treat, particularly in breaking the gain-line and offloading.
In Saturday's second match, Scotland were up for the game and simply out-thought and out-played the visitors who were strangely subdued and did not seem to have the desire like their opponents. While England were missing Jonny Wilkinson, their captain who has been ruled out of the tournament due to injury, Scotland showed enterprise and variation throughout, unlike England who were relatively one-dimensional and lacked creativity. England did have the ball in the last few minutes of the game and moved up to pitch like they do in American Football, only for Scotland to gain a turnover after being disciplined in not giving up a penalty which would have gifted England at least a draw (with a successful penalty kick) or even a win (courtesy of a try).
The last of the first weekend's matches, with France hosting Italy in Paris on Sunday, saw the visitors take the lead twice in the first half, only to be pegged back by the professionalism and determination of the French team. While Italy last won a 6Nations match in 2015 when they beat Scotland in Edinburgh, they have beaten Wales, Ireland, France, Scotland and Wales at different points since their joining the other 5 nations and the creation of the 6Nations in 2000. They have had different coaches and the game has evolved significantly since then, particularly at club level, but the men's international team has not had a breakthrough for seven years. France won on Sunday 37-10, earning a bonus point courtesy of scoring four or more tries, with three of these coming from winger Gabin Villiere.
So France and Ireland lead the table with 5 points apiece, with Scotland on 4 and England on 1. But it is very early days yet. While the Grand Slam is still open for 3 teams and the Triple Crown is down to 2 (Ireland, Scotland), all 6 teams are still in with a chance of the championship.
Next week sees Italy host England in Rome, with Eddie Jones' men odds-on favourites to rediscover their form, score tries and come away with 4 points or, more likely, 5. That will be the Sunday game, with Saturday seeing Wales host Scotland in Cardiff: Wales will have to improve on their form in Dublin to get anything out of this game, as Scotland are currently on a high and have the bit between their teeth, as well as belief that this could be their year; but have the Scots peaked too early? The late match on Saturday sees France host Ireland in Paris: while both had comfortable home wins on the first weekend of this year's tournament, this is a crunch match with the losers out of the running for a Grand Slam.
So, all to play for…