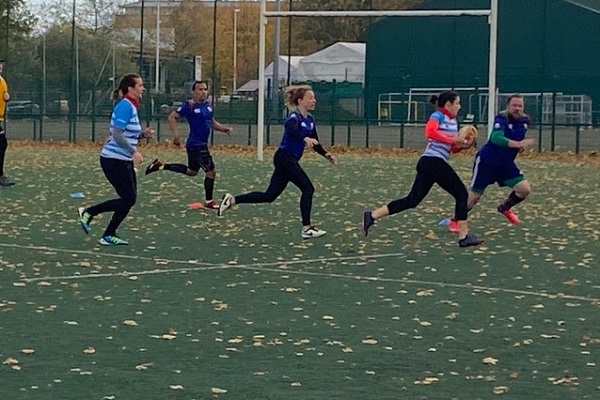 Credit: RCL Touch
On Sunday, RCL's mixed Touch team was back in action in the 1st leg tournament of the Belgium Touch league in Brussels.
In the first of two 40-minute touch games, the Luxembourg team got off to a winning start, beating La Hulpe 15-4. Marie-Gabrielle Poupel scored three of her five tournament touch downs and was named Most Valuable Player (MVP).
In their second game against a well-coached Brussel Celtic side, the squad really had to raise their game. And yet again it was Luxembourg's ladies who stood out with some excellent defensive work, with Aurianne Lucidarme being awarded the women's MVP on her first competitive game since giving birth to a baby boy. The team played quality, disciplined touch in what was a highly competitive game against one of the best teams in Belgium. Coach Simon Neale was pleased to see how well the team executed their set plays and were able to create space against a well-organised defence. Although Luke Ng-Yan-Kwong, on his Touch debut, worked tirelessly in defence and showed great pace to score a couple of great touch down, larger Celtics squad just edged out RCL by seven touchdowns to five.
Legs 2, 3 and 4 will be held in March, April and May 2022 respectively.
Anyone who wishes to play Touch is invited to contact RCL Touch via email: luxembourgtouch@gmail.com.