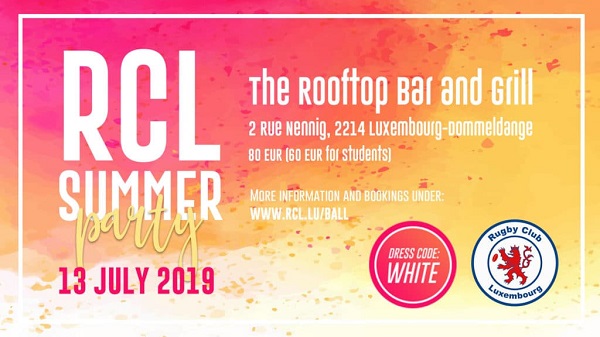 The Rugby Club Luxembourg (RCL) is holding its Summer Party on Saturday 13 July 2019 from 19:00 - 03:00 at the Rooftop Chalet & Beach Bar (2 Rue Nennig, L-2214 Luxembourg-Dommeldange) - located near Arbitare furniture shop on the third floor.
Tickets cost €80 (€60 for students). The price includes BBQ, salad buffet + all drinks.
Dress code: White. Ladies – caution with the choice of shoes. The venue has wood flooring (with wide gaps) – best to wear suitable shoes (i.e. no pointed heels). Please note it is not a sit-down dinner!
Raffle tickets will be sold during the evening – Excellent prices to be won. All profits will go to charity. The RCL social club supports those in need: Free access to the summer camp and other events for children from disadvantaged families in liaison with Caritas; Creating unique opportunities, to study, live and play rugby for children and teens from developing nations.
To reserve your place, contact Carole, email: carole@rcl.lu, with payments to the RCL (LU38 0019 1000 2457 5000), mentioning "RCL Summer Party 2019 + First & Last Name".​