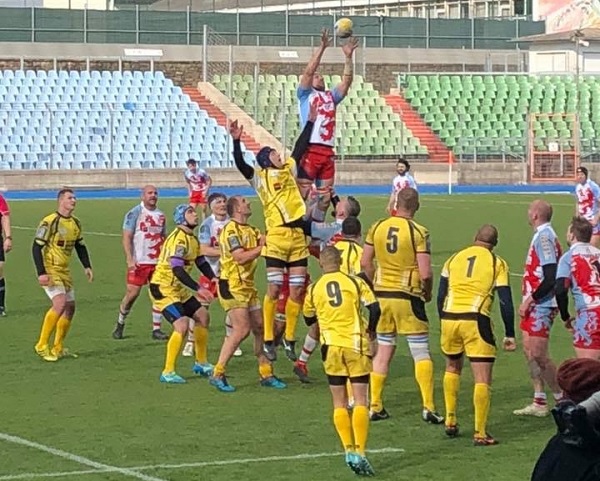 Rugby: Luxembourg - Moildova; Credit: FLR
On Saturday 13 April 2019, Luxembourg overcame Moldova 23-10 in Conference 1 North of the Rugby Europe International Championships (REIC) to secure their place in the REIC 1 North division for next season.
Played in sporadic snow flurries, the home side got off the mark in the 11th minutes with a drop-goal from open play by out-half Maxime Dozin to take a 3-0 lead. Scrum-half William Browne followed ths up with a penalty on 22 minutes to double the lead to 6-0.
Moldova, though, were not lying down and came back to score the first try of the game just 5 minutes before half-time, but failed to convert.
A couple of minutes later, the referee gave Luxembourg's prop, Saman Rezapour, a yellow card, and then their No.8, Rhys Williams was replaced by Matthew Dennis-Soto just before the break, with Luxembourg holding a slender 6-5 lead.
Whatever Luxembourg's coach, Jonathan Flynn, said to his team at half-time clearly had an effect. Back-row Jean-Baptiste Vert went over for a try just 2 minutes after the re-start and William Browne converted, to extend the home side's lead to 13-5.
Moldova then lost their No.8 to a yellow card, but all Luxembourg could do in this period was to add another penalty by William Browne. The visitors actually managed to score a second try (unconverted) with 14 men just before the 10 minutes were up, to leave the score-line delicately balanced at 16-10.
Following a raft of substitutions on both sides, Luxembourg managed to get a second try just before the final whistle blew, courtesy of winger Adrien Timmermans, which was converted by William Browne to leave the final score at 23-10. Willian Browne brought his total points for the day to 10.
Saturday's crowd included government minister Corinne Cahen and Prime Minister Xavier Bettel.
Luxembourg's next game is away to Hungary on 4 May 2019.
Luxembourg
1 - KREMER Thomas
2 - DEE Quentin
3 - REZAPOUR Saman
4 - GASPALOU Josselin
5 - GIFFARD Vincent
6 - KIMMEL Romain(c)
7 - VERT Jean-baptiste
8 - WILLIAMS Rhys
9 - BROWNE William
10 - DOZIN Maxime
11 - NICOLETTA Ugo
12 - BARES Gauthier
13 - KOMBIA Kevin
14 - TIMMERMANS Adrien
15 - VAN Zeeland
16 - CENDRE Victor
17 - MAHE Thomas
25 - DENNIS-SOTO Matthew
19 - MARSDEN Richard
18 - SCHAAP Stefan
21 - BOUOBDA Nzali
22 - KETEMA Yared
20 - STONE Charles
Coach: Jonathan FLYNN